For four decades, we've been celebrating the opening of Trout Season with friendly competition and prizes! The annual Blowing Rock Trout Derby is a much-anticipated early springtime event in the village. We have some of the best trout fishing anywhere in the Southeast, so the combination of the Derby and our lovely springtime makes for a great reason to visit. Fishing is a sport that can be enjoyed for a lifetime and the Derby is a great way to be together as a family!
2021 brings the 41st Blowing Rock Trout Derby on Saturday, April 3!
How it Works:
Derby hours begin at sunrise on Saturday, April 4, 2020, and end at 4pm on the same day.
Catches should be taken to the official Derby Headquarters to enter for measuring in the Classic Tournament. For the Catch & Release competition, grab your official measuring tape first at headquarters! Headquarters:  The Blowing Rock Clubhouse, 108 Lakeside Drive, Blowing Rock, NC 28605.
Trout caught in any Watauga County body of water on April 4 are eligible. Entries for the Catch & Release categories may only be caught using artificial flies- no live bait or power bait.
Prizes are awarded at 4:30pm at Derby Headquarters. Scroll down for the prize lists!
Broyhill Lake in Blowing Rock is restricted to fishing by children 11 and under and persons with disabilities. No fishing license is required for Broyhill Lake. There is a limit of three fish per person from Broyhill Lake.
All Fishing and Wildlife laws should be followed for Watauga County public waters, including possession of valid fishing license and following all posted regulations.
No entry fees are required and no pre-registration is necessary for the Classic Tournament. The Catch and Release categories are also free to enter, but will require check-in to pick up an official measuring tape prior to fishing.
New! Catch & Release Details
Chetola Resort will present a Catch and Release competition this year with prizes provided by ORVIS! These categories are great for folks who are inclined to release fish back into their habitat. To enter, participants will need to register and pick up an official tape measure before heading out to catch a prize winning fish. A photo of fish being measured with clear, visible numbers on registered Trout Derby measuring tape must be presented before derby ends at 4pm. All details of entry will be given upon check in, and participation is free!
At the Derby:
7am Official Headquarters and Catch and Release Registration Opens. Event t-shirts and gifts available while supplies last.
7am-3:30pm Art Contest for Kids at Headquarters. Supplies provided.
2pm Fly Fishing Demonstration at Broyhill Lake, presented by Chetola Resort.
3pm Kids Fly Fishing Clinic at Broyhill Lake, presented by Chetola Resort.
4pm Deadline for entries
4:30pm Awards Ceremony at Official Headquarters
Broyhill Lake in downtown Blowing Rock will be stocked with hundreds of fish in the days leading up to the derby, and other local bodies of water are stocked for the season as well. Kids are invited to fish at Broyhill Lake, where some of the stocked fish are tagged for special prizes!
Speaking of kids, there's some great fun for the little ones. The North Carolina Wildlife Commission supports the Blowing Rock Trout Derby with free "Fish for Fun" bags complete with a tackle box, regulation book, bumper sticker, stringer and bobber. Be sure to bring the kids by the Derby Headquarters early for their bags, and to collect an official Derby T-shirt, free! While they're there, they can create a work of art and compete for the chance to have that art featured on next year's Event Poster and T-Shirt.  Supplies are provided, and all art submissions are hung on the walls inside the Clubhouse (by the Blowing Rock Pool and Broyhill Park parking area), where local judges select the winner at the end of the Derby.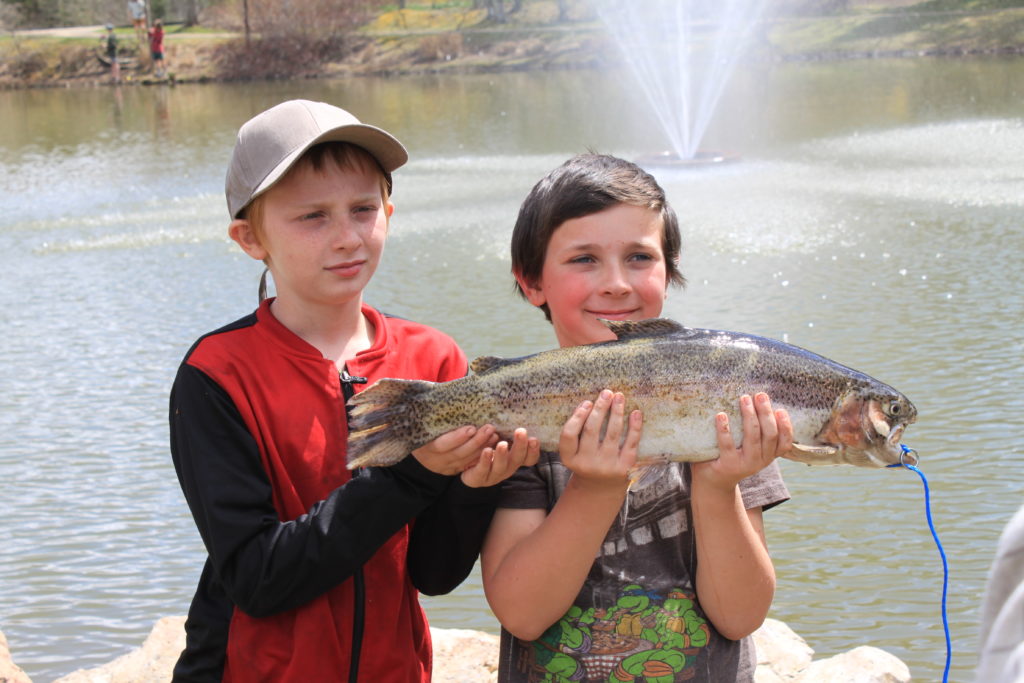 Chetola will also sponsor an Orvis Endorsed Fly Fishing Demonstration and Clinic at Broyhill Park. This demo is free! Stick around for the Fly Fishing Clinic for kids, too. Kids can try their hand at landing their fly in the targets- and get Orvis prizes!

PLUS: Chetola will stock Broyhill Lake with some trophy trout– kids will get a chance to land a BIG one when they fish at Broyhill Park!
Where to Fish
Trout caught in any Watauga County public waters on derby day are eligible for measurement and prizes. On the day of the derby grab your fishing license and your fishing gear and hit local waters for brown, speckled, or rainbow trout. Favorite nearby spots include Price Lake, Bass Lake, Trout Lake and the Middle Fork River along Highway 321.
**Follow this link and select Watauga County on this map of NC fishing waters to see public fishing areas. Note that Blue Ridge Parkway waters are not included, but fishing is allowed on the Parkway- just obey posted signage.
If you want the easiest-to-find public fishing areas, see this High Country Host Guide for addresses of popular Watauga spots!
You can pick up a NC Wildlife Regulation Guide from anywhere that sells fishing licenses. Don't have a license, guide, or tackle? Check out Village Hardware at 312 Green Street in Blowing Rock- they'll get you all set up!
Entries and Prizes
For the traditional catch-and-keep competition: Once you've caught your prize-winning trout, take it to the Derby Headquarters at the The Blowing Rock Clubhouse  (before 4pm). There, derby staff will measure your catch and record the length. Take some time to browse the prizes inside- there are lots of great items donated by sponsors!
Classic Tournament Trophies & Prizes
Unique, handcrafted plaques by Snake Mountain Iron Works are awarded as trophies for the 1st, 2nd, and 3rd largest trout in five divisions:
Men (ages 17+)
Women (ages 17+)
Girls (ages 12-16)
Boys (ages 12-16)
Small Fries (age 11 and under)
Prizes accompany each Classic Tournament Trophy, and include outdoor and fishing gear like new rods and reels, sporting vests, tackle boxes, and more.
Classic Tournament Species Prizes
Largest Brown, Brook, and Rainbow Trout each awarded $100 cash.
Classic Tournament Tagged Trout
At least 10 tagged trout will be released into Broyhill Lake- each awarded $25 cash.
For the NEW catch-and-release competition: Check in at the catch and release table at Derby Headquarters, starting at 7am on Derby Day, to get your official tape measure for entries. When measuring a fish for entry, you must measure with the official tape, and take a photo to specifications given at check in. The photo will be your entry, so return to Headquarters by 4pm to record your measurement(s). Prizes will include Orvis fishing equipment!
Catch & Release Adult Category (21+)
1st Prize: ORVIS Recon 9' 5 weight Fly Fishing Rod
2nd prize: Chetola Orvis Lodge Fly Fishing Casting Clinic for group of 2
3rd prize: ORVIS Buff and Slimcup
Catch & Release Teen Category (12-18)
1st Prize: ORVIS Encounter 9' 5 weight Fly Fishing Rod
2nd prize: Chetola Orvis Lodge Fly Fishing Casting Clinic for group of 2
3rd prize: ORVIS Buff and Slimcup
Catch & Release Youth Category (11 and under)
1st Prize: ORVIS Youth Waders
2nd Prize: ORVIS Practicastor
3rd Prize: ORVIS Buff and Slimcup
Trout Derby Dining
Are you looking for a taste of mountain trout? Check out these Blowing Rock restaurants that will be dishing up our favorite local fish over the Trout Derby weekend:
Chetola Resort/Timberlake's Restaurant
Fly Tie & Fish Fry Picnic- Friday, April 3
Fly tying demos with Orvis Endorsed Guide! 6-9pm.
Fried trout and cod tails, hush puppies, creamy cole slaw, steak fries, tartar sauce,
and Cajun remoulade for $15
Chicken tenders, hush puppies, steak fries, creamy coleslaw for kids for $8
Plus lawn games, bonfire, & Appalachian Mountain Brewery tent!
RSVP: 828-295-5505
Speckled Trout Restaurant & Bottle Shop
Smoked Trout Toast- house smoked trout, picked red onions, crème fraîche, chili oil, balsamic reduction, on pumpernickel for $11
NC Farm Fresh Mountain Trout- choose Cracker Crusted, Almond Herb, Salt & Pepper, Blackened, or Hickory Smoked. With one side for $15, with two sides for $20
Devilish Eggs with house smoked trout, roasted red pepper sauce, & dressed arugula for $10
You can also add fresh mountain trout to any salad!
Sunny Rock
Fried Trout Basket with slaw, fries, & cornbread for $8.99, offered Friday, April 3 and Saturday, April 4.
Foggy Rock
Trout Trout Trout- three filets of trout -one blackened, one Parmesan encrusted, and one fried -served over creamy rosemary potatoes with steamed asparagus for $16.99
For more information
on the Trout Derby and overnight accommodations in the Blowing Rock area, contact the Blowing Rock Visitor Center at 828-295-4636 or info@visitblowingrock.com.

The 2020 Blowing Rock Trout Derby is sponsored by NC Wildlife Resources Commission of Inland Fisheries, 4 Forty Four, Chetola Resort, Hollars Construction, M-Prints, Bolick & Traditions Pottery, Blowing Rock Tire, High Country Chapter Hunters Helping Kids, J.B. Allen Home Solutions, Jenkins Realtors, A-1 Termite & Pest Control, Mike Calhoun's Bass Club, and the Blowing Rock Chamber of Commerce.
Trophies are provided by Snake Mountain Iron Works. Trophy sponsors are First Citizens Bank of Main Street, Food Lion, and Mountaineer Maintenance, Inc.
Catch & Release prizes are provided by ORVIS.