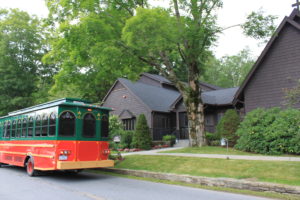 The annual Blowing Rock Tour of Homes is July 27, 2018. The Tour opens the doors to some of Blowing Rock's most special private homes and offers an opportunity to admire the special features and furnishings that have been cherished by homeowners for generations. This year the featured homes are all historic, providing a glimpse into old Blowing Rock treasures.
Originally built in 1924 by noted developer William Alexander and later owned by Anne Cannon Reynolds Tate Forsyth for 50 years and then her son Zack Tate, Far Horizons lives up to its name, offering spectacular views of the Johns River Gorge, Grandfather Mountain and all surrounding vistas. Having undergone two complete interior renovations, most recently by the Caudle family, this Laurel Lane estate features beautifully decorated interiors and remarkable living spaces both inside and on the landscaped grounds. This home will also be privately previewed by guests at the
Opening Doors Gala on July 12.
Owls Roost is one of Blowing Rock's gems, Built in 1932 by David Milton, husband of Abby (Babs) Rockefeller, for his mother, the home was later owned by Laura Cone, sister-in-law of famed Greensboro denim king, Moses Cone. Prominent guests entertained during this historic period included John D. Rockefeller, Jr. and Etta Cone. Etta Cone was a guest in the home when she died. Owners Nan and Edgar Lawton have preserved its essence, keeping the home true to its historic time while serving their large family in style.
Built in 1924 by James W. Cannon, Jr. and currently owned by Gene Ostrow and Tracy Woody, Tuckaway has recently been refurbished, restored and updated. This beautiful multi-gabled house features new poplar and chestnut bark siding, stacked stone accents and unusual round columns on the front side of the home. Great pains were taken to reserve the architectural integrity of the residence. The home features select original furnishings mixed with new contemporary upholstery. A variety of antiques give the historic house a sense of place. In addition to the home, the gardens, originally modeled after the Monet garden in Giverny, France are a delightful haven and beckon the visitor to linger.
Merlin Glen was built in1920 by the current owner's maternal grandfather, Janes L. Coker of Hartsville, South Carolina. Built adjacent to a working apple orchard on a twelve acre property, the home is graced with mystical views of the beautiful Johns River Gorge. Owner Jim Fort recalls that although the house was originally wired for electricity, kerosene lamps were used for lighting until electricity became available on the mountain and water was initially provided by a spring-fed waterwheel. This historic home and its views will take you back to a time when summer life in the High Country was nothing short of immersion in mountain wonder from dawn until dusk.
The Main Street home of Sylvia and Cullie Tarleton, Maymont, began its life as a simple mountain cabin in 1887. The home's name, which means "May in the mountains," was bestowed by previous owner Mary (May) Ransom. The one-time cabin was sold in 1902 to General Matt W. Ransom of the Confederate Army. Prior to the Civil War, General Ransom served as a member of the North Carolina State Legislature and as North Carolina Attorney General. Following the end of the Civil War, Ransom later served in the US Senate and as an ambassador to Mexico. The home was renovated by the Tarletons after their 1995 purchase and they retained the charm of the historic residence by keeping the original mantles, floors and bead board ceilings. Maymont is a
gracious home filled with period antiques and family pieces that captures the spirit of Southern living.
In addition to the house tour, other activities offered at the church include a $15 lunch provided at the church.There will also be a bazaar with baked and savory goods, and a tag sale offering unique items on the church grounds. Tour tickets are $30 in advance and $35 on the day of the tour. Tickets may be purchased online atwww.stmaryofthehills.org, at the church office, or the Blowing Rock Chamber of Commerce on Park Avenue. They may not be purchased by mail.
According to Tour co-chairs Susie Greene and Loy McGill, in the spirit of community, the Tour of Homes has galvanized members of Blowing Rock to come together for sixty years to open doors and make money for worthwhile area programs. Since the Tour's inception in1958, over a million dollars has been given to charities. Countless individuals in the High Country have benefited from the generosity of the women and men who have participated in making the event possible. Make plans now to drive up to Blowing Rock and enjoy the Tour on July 27!
by Loy McGill