By Harrison Herbst
Don't Hibernate… Celebrate!   Enjoy the fun side of winter at Blowing Rock's 22nd annual WinterFest January 23-26, 2020.  The town of Blowing Rock has been celebrating the special joys of the season with a four-day long festival since 1998 with over 3,000 people in attendance annually. Blowing Rock is situated at 3,566 feet elevation, the perfect mountain top town and winter wonderland. Ice sculptures will be placed in front on many of Blowing Rock's downtown businesses and twinkle lights will illuminate the streets after dark. WinterFest is a popular event for locals and visitors alike. Annual events include WinterFeast, a Winter Fashion show, snow making and ice carving demonstrations, a WinterFest Beer Garden, Chili Cookoff and the Polar Bear Plunge, a favorite event for many.
WinterFest is an important event in the community as a way to raise money for many local non-profits including Mountain Alliance, Partners! Canines, Western Youth Network, Hospitality House of Northwest North Carolina, High Country Breast Cancer Foundation, and many more!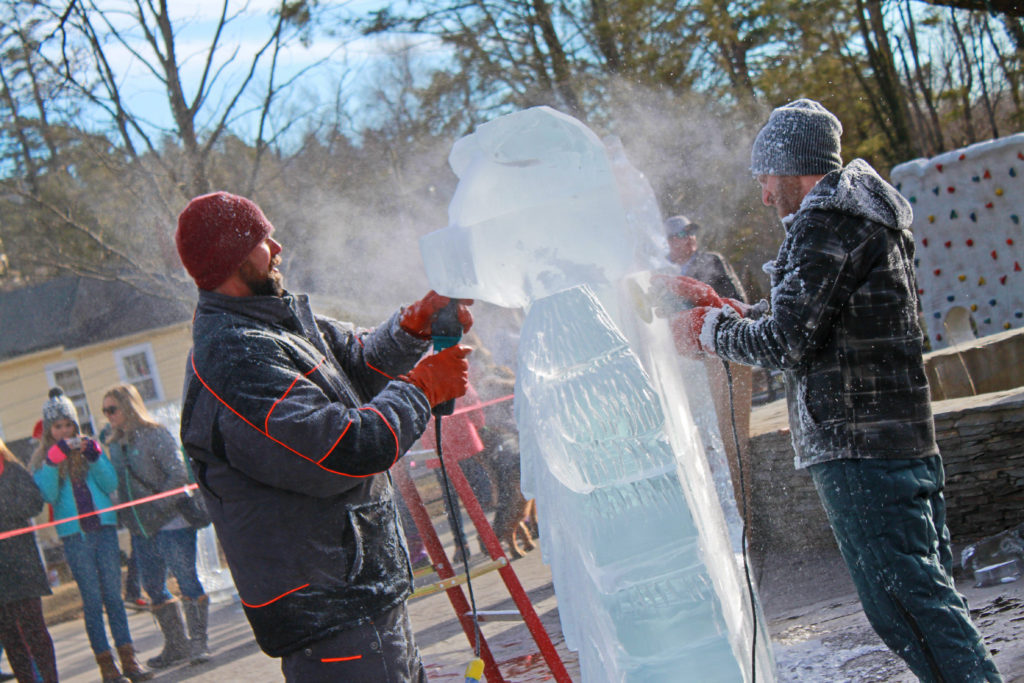 Festival Overview
With events spanning from Thursday through Sunday there is surely something for everyone. To assist with planning your weekend, here's an overview of some of the events.
WinterFeast, a restaurant showcase, kicks off the weekend on Thursday at Chetola Resort. This event sells out year after year, make sure to make your reservations at the WinterFest website and bring your appetite.
Friday is the WinterFashions show; here you'll see some of the latest trends from many of Main Street's retailers. This is definitely the event to see and be seen!
Saturday morning brings the Polar Bear Plunge, which takes place at Chetola Resort. Register online to participate if you dare, dress up and compete for the "Golden Plunger". Saturday afternoon will bring a couple more signature events: The WinterFest Beer Garden and Wine Tasting and Auction. The WinterFest Beer Garden, sponsored by The Speckled Trout Restaurant and Bottle Shop, is a chance to sample different brews and more from many local and regional breweries all in one location (Park Avenue). The Wine Tasting and Auction, which takes place at the Historic Green Park Inn, is a chance to sample both regional and international wines. Then, bid on some wonderful lots including experiential packages, wine and high-end glassware, tickets to upcoming events, and much more. 
On Sunday, take a stroll over to the Blowing Rock School Gym with your furry friends for the WinterPaws Dog Show. Categories include: Best Dog Trick, Cutest Dog, Best Winter Wear and much more.
Events under $10 – several are free
There are many free and low-cost activities in which to participate. Some of the free activities include, live entertainment at Chetola Resort, ice sculptures and demonstrations in Memorial Park, watching the K9 Keg Pull and Polar Plunge, Arctic Art at Blowing Rock Art & History Museum, and hayrides through historic downtown Blowing Rock. Some lower cost events include, the Rotary Chili Cookoff ($8) and the WinterPaws Dog Show ($5).
Shops will be open throughout town and there will even be a WinterCraft Outdoor Market at the Martin House on the corner of Main Street and Laurel Lane.
Other details and additional WinterFest events can be found on the WinterFest website. Event tickets can also be purchased online at www.blowingrockwinterfest.com