While you stay at home and practice social distancing, enjoy views and experiences in and around Blowing Rock! "Visit" some attractions and shops below:
---
Walk Along Main Street
Take a walk down Main Street on a beautiful summer morning:
---
Take a Hike: Glen Burney Trail
Enjoy this hiker's-eye-view of the Glen Burney Trail in Blowing Rock! See early spring flowers and buds, and the waterfalls along the way.
---
Take a Hike: Rough Ridge
The portion of the Tanawha Trail at Rough Ridge on the Blue Ridge Parkway is much-loved hike. We took this hike the first week of April, when the trees were still mostly bare but the sun was warm.
---
Navigate Blowing Rock on Google Maps
Drop onto Main Street and navigate through the village, with images taken last summer:
---
The Blowing Rock
The Blowing Rock is known for incredible views! Enjoy the view of Grandfather Mountain from the Ray's Weather webcam, which takes a new high-resolution photo every few minutes. There are many more local cams on Ray's Weather to check out.
The attraction is closed to the public for now, but videos are posted often to their Facebook page!
---
The Blowing Rock Art & History Museum
The Blowing Rock Art & History Museum has launched BRAHM At Home. From guided art instruction to audio files of interviews with local figures, DAILY programming is curated just for you at home!

BRAHM is also posting programming to their YouTube channel. Check out this Coffee with the Curator with Pete Lupo:
Follow BRAHM on Facebook for updates!
---
1888 Museum
See the 1888 Museum on Main Street, the last remaining cottage from our first hotel, the Watauga Hotel, in this video from the Blowing Rock Historical Society!
Grandfather Mountain
Grandfather Mountain is featuring a series of "Nature Minutes" on their Facebook page. Meet some of the wildlife and learn about different aspects of the mountain, all from home.
Blowing Rock Charity Horse Show
Get the best views of the Blowing Rock Charity Horse Show at the Broyhill Equestrian Preserve, after a bit of fun historical photos!
Video from Nelson Aerial Productions Inc on Vimeo. Find more videos from the Blowing Rock Charity Horse Show here!
Blowing Rock Downtown Cam
Don't forget about the Main Street webcam in Blowing Rock. The view shifts across Main Street and Memorial Park, so you won't miss when the trees bud and the flowers bloom. And, Resort Cams has many other live views of your favorite High Country places to find on the same site!
Rooftop Apiary:
Did you know that Meadowbrook Inn has a rooftop apiary of honeybees? Take a look inside one of the hives here:
Learn a bit more about Meadowbrook Inn's bees here!
Shops & Restaurants!
See new red and blue pottery at Bolick & Traditions Pottery:
Learn how to sew a rope basket with Katherine at The Mountain Thread Company in this video series. She makes baskets in her studio shop often, and it's a fun process to watch.
Watch a candle being carved at High Country Candles!
Get a sweet neighborhood feeling with this scene from Speckled Trout Restaurant & Bottle Shop:
Have you ever seen a Flaming Coffee being made? Check out this video of Felix making one at Storie Street Grille!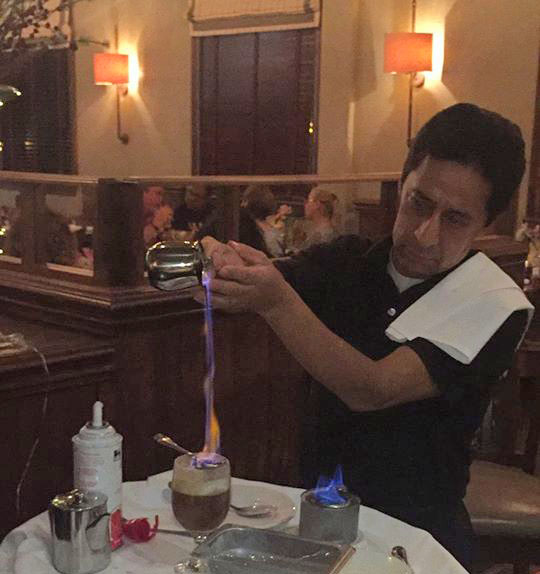 Enjoy a little music from a performance at Rustic:
---
We've put together some fun activities to bring Blowing Rock to you! Check these out:
Lots of local places post regularly to social media, so look for your favorites and engage with them to see more of them in your Facebook and Instagram feeds. Restaurants in particular are posting all their information for take out! You can see crafting ideas (and kits to order) from Unwound and The Mountain Thread Company, get delicious cooking tips and spice suggestions from The Spice & Tea Exchange, and enjoy new spring looks from Monkee's.

We also suggest enjoying some "Virtual Travel" with our friends at Travel Through Life, who are reposting an album and info from a different NC town each day! They want to inspire your future travel plans. Blowing Rock was one of the first in the series.
https://www.facebook.com/travthroughlife