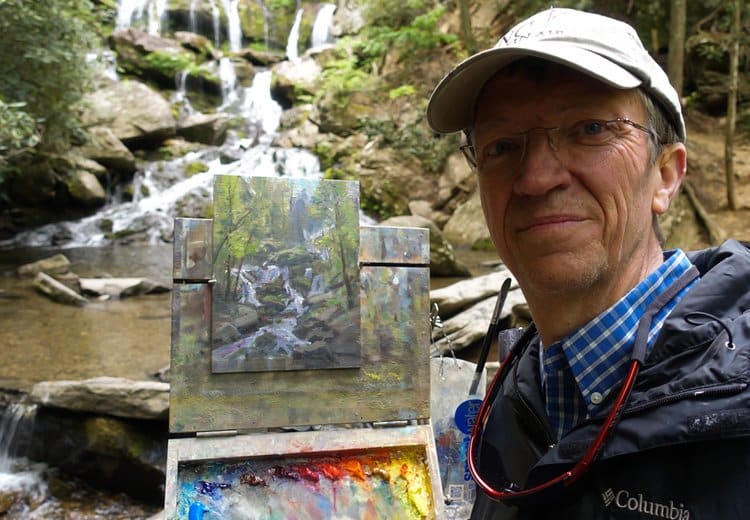 Take your paints outside with North Carolina landscape painter Scott Boyle during a 3-day plein air workshop in beautiful Blowing Rock, North Carolina. The workshop will consist of a brief lecture, group discussions, outdoor painting demonstrations, and student painting opportunities.  Scott will paint a demonstration painting each day and students will have a chance to complete 3-6 paintings during the course.
This will be a 3-day plein air workshop with well known plein air artist and teacher Scott Boyle and hosted by the Blowing Rock Art & History Museum in the beautiful Mountains of North Carolina.  Late September is a beautiful time to paint in the North Carolina Mountains with cooler temperatures and with fall colors just beginning to show. The theme of Scott's workshop will be to lighten your load and to simplify your painting process.  Attendees will learn exercises that will help to improve their fundamentals of drawing, composition, values (light/shadow), and color to create stronger outdoor paintings. This class will be beneficial to beginner and intermediate students.
The class will be a small group learning experience of 10-12 students which will allow Scott to personally help each artist regardless of their skill level.  You may need help finding a scene to paint, setting up equipment, drawing, composing, mixing colors, creating softer edges, finding color harmony, or painting faster outside.  Scott will try to help each student with their individual needs.
This workshop would be most helpful for oil painters, though other mediums are welcome. No plein air experience is necessary. Students supply their own materials, easels etc.
The class will begin at The Blowing Rock Art & History Museum for a short lecture and then we will paint outdoors near the museum.  The class will run from 9:30 AM – 4PM each day