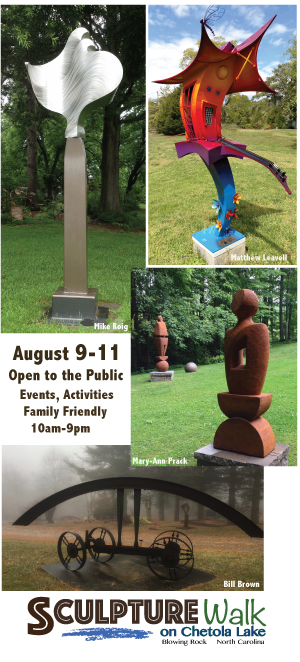 The arts have always been a natural fit in the Blue Ridge village of Blowing Rock, where a wealth of natural beauty inspires artistic expression and appreciation. This year brings two new special art events to add to a rich cultural calendar! 
For the first time ever, the renowned art collection of sisters Claribel and Etta Cone will be presented in context with their lives in North Carolina, starting August 3 at The Blowing Rock Art & History Museum (BRAHM). These special exhibitions can only be seen in Blowing Rock, and have been curated by BRAHM. Modern Visions, Modern Art: The Cone Sisters in North Carolina presents a selection from the Cone Collection with artwork by Henri Matisse, Rembrandt, Sarah Stein, Jacques Villon, and others, and is presented to the community by Wells Fargo. Modern Visions, Mountain Views: The Cones of Flat Top Manor tells the story of NC's "Denim King," Moses H. Cone, and his wife, Bertha; organized in partnership with the Blue Ridge Parkway Foundation and the National Park Service/Blue Ridge Parkway. Exhibits continue through November 30 and admission is free- don't miss them! More at blowingrockmuseum.org.
The inaugural Sculpture Walk at Chetola Lake will showcase pieces from national and regional artists in a curated exhibition of monumental and mid-scale works of art, August 9-11. All are invited to stroll through the landmark grounds at Chetola to view the works- many of which will debut that weekend! Artists Bob Timberlake and Joe Miller will help kick off the celebrations on Friday, August 9 at the ticketed "Prosecco and Painting/ Bourbon and Brushes"-Tasting Spirits and Talking Art.  Special activities are planned all weekend. Details at thesculpturewalk.com.
Blowing Rock's 2019 summer calendar features lots of annual art & cultural events that visitors and residents know and love. Art in the Park, an outdoor, juried series of Saturday shows, continues for its 57th season in downtown Blowing Rock. Remaining dates for 2019 are June 15, July 13, August 10, September 7, and October 5. Concerts in the Park follow each Sunday after Art in the Park. The 10th annual Artists in Residence at Edgewood Cottage is now underway, and continues through September 15. New artists are featured each week in a studio setting where visitors can meet the artists and view and purchase their work. All of these events are free and open to the public. And there's more than the visual arts- mark your calendars for music at Symphony by the Lake at Chetola and architecture & design at the Tour of Homes, both on July 26. The equestrian arts are celebrated at the Blowing Rock Charity Horse Show, with Saddlebred divisions presented June 6-9, Hunter Jumper I on July 23-28, and Hunter Jumper II on July 31-August 4.
Blowing Rock is a great place to visit during the summer months, with cooler mountain temperatures and many family-friendly activities and adventures. In fact, Blowing Rock was just voted among the 10 Best Small Towns for Adventure by USA Today readers! Nearby attractions include Tweetsie Railroad, Grandfather Mountain, the Blue Ridge Parkway, Mystery Hill, and many more. Most local attractions have extended summer hours. See our attractions page for more!
June 2019