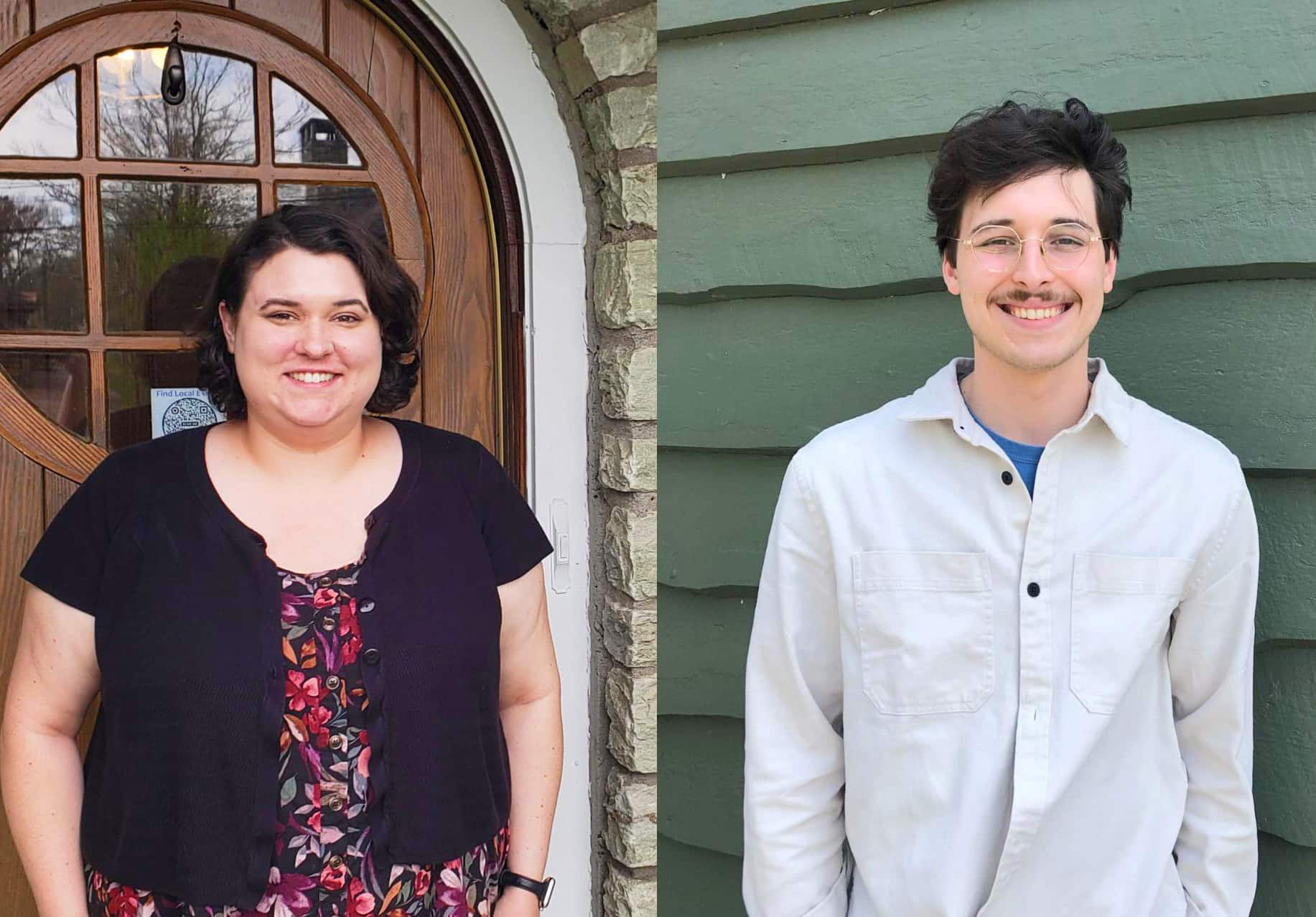 BLOWING ROCK, NC (June 2022) – The Blowing Rock Tourism Development Authority (TDA) has welcomed two new promotions professionals to its team! Lindsay Garcia and Tyler Graves are getting settled into their roles just ahead of the summer season. Both new staff members will be focused on promoting local activities, businesses, and mountain lifestyle through various platforms.
Lindsay Wright Garcia is a Blowing Rock native and UNC Wilmington graduate. She recently returned to the area after working with a major book publisher and managing & marketing a pair of paint studio shops in Chicago. Creative and resourceful, she brings her writing talents and a rooted appreciation for Blowing Rock to the role of Content Manager. From website content on BlowingRock.com to email marketing and seasonal promotions, she's making sure local information is engaging and up-to-date. "I am incredibly grateful for the opportunity to work with the people at the TDA in a town as amazing as Blowing Rock," Lindsay says. "I'm learning more about the community and role tourism plays in it which has been really rewarding."
Tyler Graves, a communications grad from Appalachian State University, is the new Digital Community Manager. After graduation, he quickly applied his skills to freelance work and social media management for a large non-profit in Atlanta, but has been eager to return to the High Country. He's outgoing and enthusiastic, and he's applying his graphic design skills and understanding of promotional strategy to six different social media platforms for Blowing Rock. Tyler states, "I wanted to help shine a spotlight on a community that is truly proud of its town. We so often overlook things that may seem insignificant, but it's all of these small moments that add up to create the feeling you get when visiting Blowing Rock. For me, the opportunity to share this feeling with the world is what excites me about working with the TDA."
"We're excited to have Tyler and Lindsay with us, and the timing couldn't be better," says Tracy Brown, Executive Director of the Blowing Rock TDA. "Though the industry has been moving toward a major shift in the role of Destination Marketing Organizations like ours, the chaos of the pandemic and its effects on local tourism prompted a more immediate evaluation of our promotional strategies."
With the completion of the Sustainable Tourism Management Plan, compiled by Destination Development Association in 2021, Blowing Rock TDA leadership recognized that community engagement and consensus was vital to ensure the health of local tourism and residential quality of life. Rather than spend additional promotional funding on more advertising, the TDA opted to invest in staffing to address this need. With more dedicated employees, the TDA is now better equipped to fulfill roles needed in community engagement, communication, and advocacy. Tracy Brown and Amanda Lugenbell, Assistant Director, remain in their primary roles of organizational management and media/public relations, respectively, while new staff works to engage both residents and visitors in local stories and activities. The TDA will continue paid marketing and advertising, while applying increased focus to sustainable tourism strategies, community partnership, and consistent research.
"As our 2022-2023 fiscal year begins in July, we'll be ready to take on expanded regular activities like frequent business and visitor surveys, site visits, partnership facilitation, and the coordination of the Destination Blowing Rock Team, as recommended in the Sustainable Tourism Management Plan," says Lugenbell. "Promotion of tourism in a community is more than paid advertisements, especially where sustainability is a focus. Lindsay and Tyler are helping us expand our capacity for richer engagement with locals and visitors as we all work to make Blowing Rock an even better place to live, work, and visit."
For information: Tracy Brown, Blowing Rock Tourism Development Authority
828-295-4636 tbrown@visitblowingrock.com