Pets
Inside the Village of Blowing Rock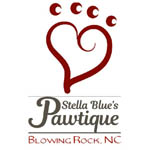 STELLA BLUE'S PAWTIQUE
Specialty food and treats for your furry friends!
110 Sunset Drive
Blowing Rock, NC 28605

Telephone: 828.719.9332

WATAUGA HUMANE SOCIETY
Purchasing a pet? Watauga Humane Society has over 200 gorgeous adoptable animals, from cats and dogs to guinea pigs and bunnies. Save the life of a homeless animal today! Our adoption fee includes spay/neuter, vaccination, microchip and more! Call 828-264-7865. Watauga Humane Society is a 501(c)(3) nonprofit dedicated to making the lives of pets better in Watauga County through sheltering, low-cost spay/neuter and education. Day, seasonal and annual dog park passes are available at the front desk with proof of vaccination. Visit 12:30 to 5:00 pm daily, Tuesday through Sunday, November 1 through March 31. Closed Mondays. Summer Hours April 1 through October 31 - 12:30 to 6:00 pm Tuesday through Friday, 12:30 to 5:00 pm Saturday and Sunday. Closed Monday.
312 Paws Way
Boone, NC 28607

Telephone: 828-264-7865