When a fresh blanket of snow covers the local hills and slopes, sledding is a major activity! Nothing compares to the feeling of flying so close to the ground, over the fresh-packed powder. From bunny hills fit for the littlest sledders, to bigger runs for the adventurous, here are some excellent locations available for public access.
Need a sled? Stop by Sunset Tees & Hattery at 1117 Main Street, Blowing Rock, NC 28605. Jack and Betsy stock a great selection!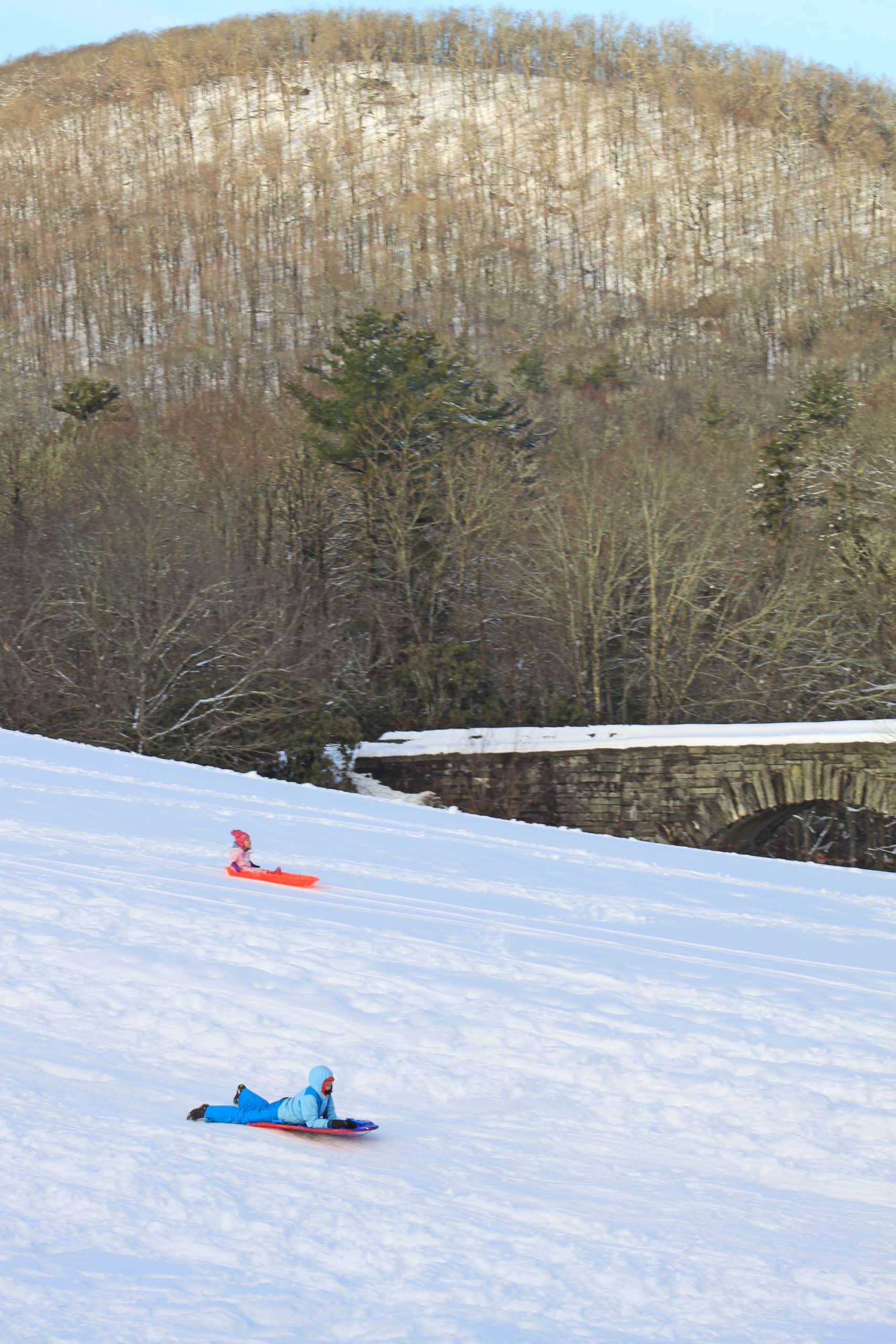 Parkway Hill in Blowing Rock
This location is perhaps the best known in the area, for good reason. As part of Blue Ridge Parkway lands, this impressive hill is open to everyone, and there's plenty of space to spread out. And it's only 1.5 miles from downtown Blowing Rock! There are a couple of different routes down the hill. The side facing the approach road is a gentler slope, while the side facing the bridge has a steeper, faster descent. The Blue Ridge Parkway is closed when it snows, but access to the hill isn't affected by closures. In fact, it makes parking possible along the access road. Because this spot is so popular, parking can sometimes be tight and a little unorganized. Just be sure to pull completely off the road if you park along Shull's Mill Road. It's a residential route that must remain unblocked.
Find it: Located at the intersection of Shulls Mill Road and the Blue Ridge Parkway, known as Sandy Flat Gap. From the stoplight on Main Street by the Mellow Mushroom in Blowing Rock, head down Hwy 221/Yonahlossee Road. After 1.5 miles, turn right onto the Blue Ridge Parkway access road. The hill rises to the left. To find with an address in a GPS, use 4780 Shulls Mill Road, Blowing Rock, NC 28605- it's not an exact address, but very close.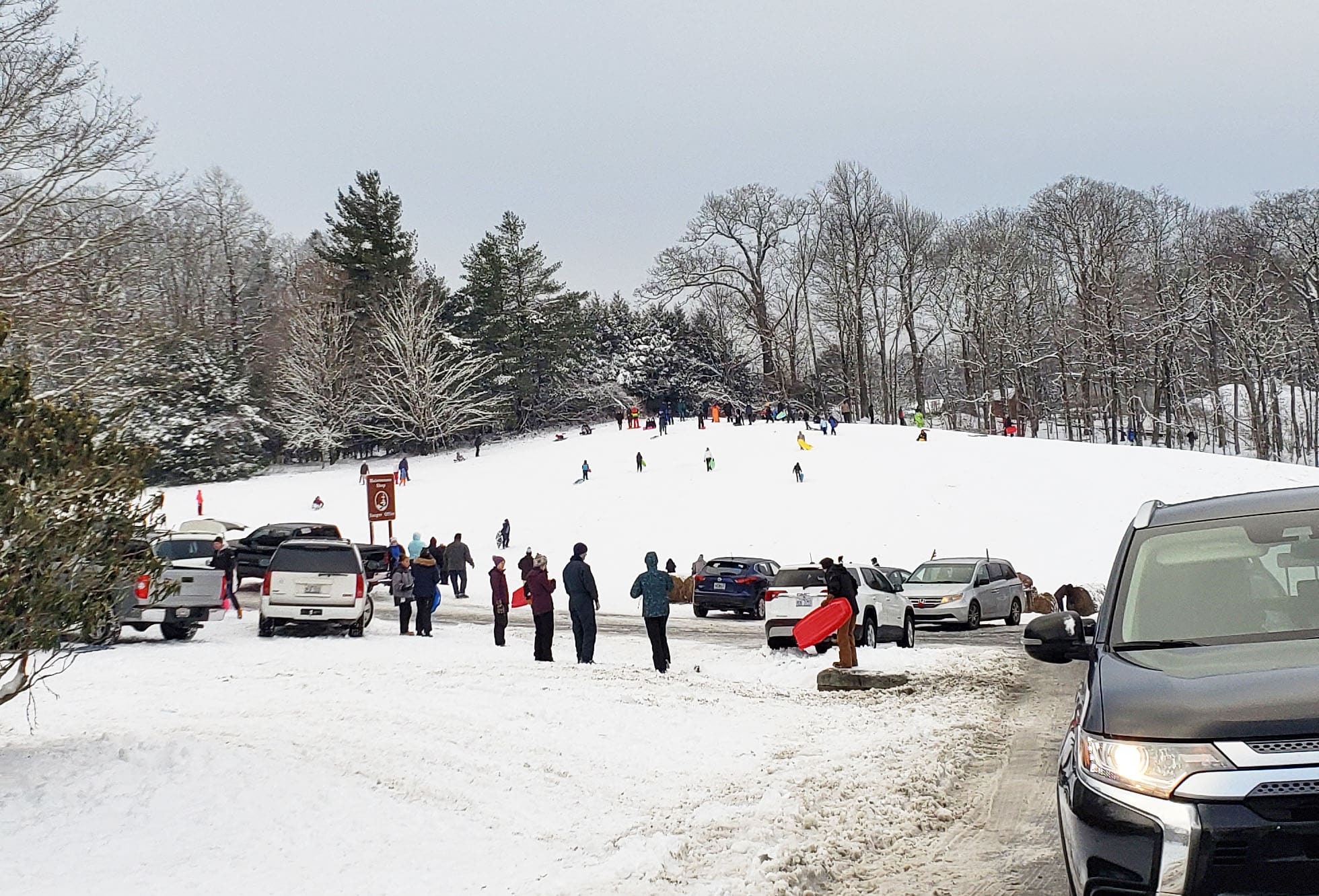 Blowing Rock Parks
The short hills in Memorial Park on Main Street attract lots of families. You can park anywhere downtown, and enjoy restaurants and shops nearby between sledding sessions. On the most used slope, some skill is needed to stop before flying across the sidewalk that runs between the Martin House and Memorial Park. Restrooms are available in Memorial Park on the Park Avenue side.
For the littlest sledding enthusiasts, the inclines that surround Davant Field can be fun. There's parking right off Clark Street, and the drop from the street level to the field level is too short to gather dangerous speed, but steep enough to get a good glide. The lack of a long climb back up keeps boredom at bay. There is a slightly larger hill on the far side of the field as well. Davant Field is also a great location for building snowmen! Lots of flat, open space for rolling snow, making snow angels, and playing tag with snowballs!
Find it: Memorial Park is located at 1036 Main Street in Blowing Rock. Parking is available on Wallingford Street, Maple Street, and other downtown locations. Davant Field and Rotary Pavillion has a Laurel Lane address, but the best parking is located at about 203 Clark Street in Blowing Rock.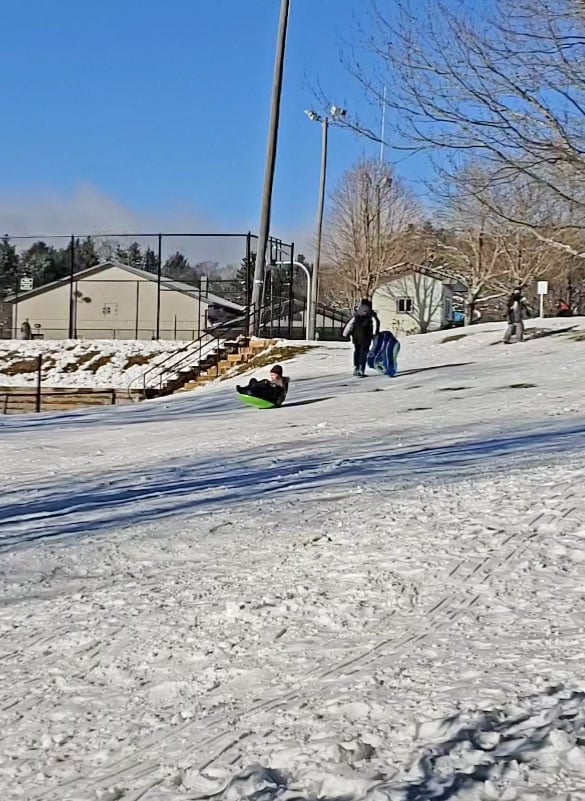 Strawberry Hill
In Boone, the best place for sledding is Strawberry Hill by Boone Jaycee Park. It's located right by Horn in the West, so extra parking is plentiful, too. The hill is wide, offering lots of different runs and plenty of space to spread out. Sledders may need a just a little bit of skill here, as is a road at the bottom of the hill, though most have no trouble stopping well before it.  There are smaller hills for the little ones in the playground area.
Find it: Boone Jaycee Park is at 527 Oak St in Boone. From the park, Strawberry Hill is across Oak Street. 
Also in Boone, Brookshire Park offer smaller sledding hills for little ones, along the inclines from the trail level to the field . This is another open, flat area to enjoy playing in the snow!
Find it: Brookshire Park is at 250 Brookshire Rd, Boone
Beech Mountain Sledding Hill
Managed by the Beech Mountain Visitor Center, this sledding hill welcomes children under 12. There are lots of amenities, including a snow machine to make snow when Mother Nature isn't! There are two sledding hills, open 9am to 5pm, seven days a week. Plastic sleds are required. If you need one, they are available for rent or purchase at several locations within walking distance, including the well-known Fred's Mercantile. Parking is available across the street near the Brick Oven Pizzeria and there are restrooms at the Visitor Center. Access to the sledding hill is free! Find full details and contact info here on Beech Mountain's website.
Find it: Beech Mountain Sledding Hill is at 403 Beech Mountain Parkway, Beech Mountain