Let your dog explore beautiful Blowing Rock next time you're here! Dogs love our town and you will, too! Let these adorable dogs show you some of the wonderful things you and your pup can do.
Take a Hike to Flat Top Tower- 
A great hike for you and your dog! Located on the Blue Ridge Parkway at milepost 297, the Flat Top Tower Trail is one of the trails you can take at Moses Cone Manor. The hike is a 6 mile (round trip) hike that gives you magnificent views along the way. At the top is the tower where you can see a fantastic 360 degree view of our wonderful Blue Ridge Mountains. This dog-friendly trail is wide and nicely compacted and can bring horseback riders, joggers, or in winter, cross-country skiers! Because of all the activity on the Carriage Trails at Moses Cone Park, all dogs are required to be on a leash.
**For other hiking ideas, visit our hiking page here.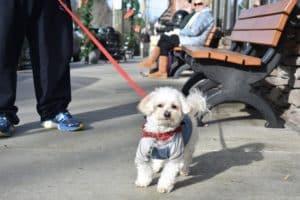 Stroll down Main St. 
Browse our amazing shops on that we have on Main St. Our store owners love dogs and many of them have water bowls sitting outside their shop.  Let our lovely visitors give your dogs some love. Who knows, they may make another doggie friend!
Stop into Stella Blue's Pawtique
Stella Blue's Pawtique on Sunset Dr. is a great place to take your pet for some great new things for your four-legged friend. They specialize in dog and cat nutrition and carry the best, top of the line products, toys, and accessories.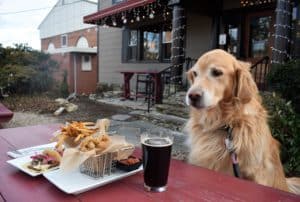 Grab some food or a beer at Blowing Rock Ale House
Blowing Rock Ale House not only has amazing craft beer, but also great food to pair with it. Their menu incorporates locally sourced ingredients, so you can really get a taste of the High Country. They have outdoor seating for you and your dog to enjoy! Open six days a week and serves lunch and dinner.
**For other pet friendly dining options in Blowing Rock, click here.
Settle in at one of our pet friendly lodging locations
The Green Park Inn has rooms that will accommodate you and your pup! You and your pooch will enjoy the historic and charming hotel the next time you visit town. The Green Park Inn loves hosting four-legged friends and is also home to a sweet Golden Retriever named Polly. She comes in nearly every day to help out around the hotel and greet guests.  Pet-friendly rooms are allowed by advance reservation only.
Homestead Inn is made up of 15 newly remodeled standard and deluxe cottage-style rooms. What is great about this place is that they're super pet friendly, even having cats and dogs of their own at the Inn. It's a great place for you and your canine to relax and snooze. They even offer pet sitting while you're out and about!
**To find more pet friendly lodging options, look for the pet friendly badge on our lodging pages here.