Blowing Rock is an excellent place to go on a picnic. Whether you're looking for a romantic date, a fun lunch with friends, or a family memory, a picnic can be a great option. We've compiled a list of picnic locations in and around Blowing Rock that are beautiful and versatile! Don't forget, you can call your favorite local restaurant and ask about takeout, or stop by local stores for supplies.
1. Julian Price Park & Price Lake
Julian Price Park & Price Lake are a beautiful setting for a picnic or a romantic canoe ride. Take a leisurely hike around the Lake, and stop to enjoy it all. For locals and travelers alike, Julian Price Park is a go-to spot for a relaxing stroll with some breathtaking scenery. In addition to picnic tables throughout the park, and convenient bathroom facilities, there are plenty of wide open spaces to lay out a blanket and enjoy lunch in the great outdoors! This is also a great place for a proposal!
Milepost 297, Blue Ridge Parkway
Blowing Rock, NC 28605
828-963-5911
2. Moses H. Cone Memorial Park
At Moses H. Cone Memorial Park, one of Blowing Rock's most historical landmarks, visitors can look out and enjoy the view from Flat Top Manor, stop along the carriage trails for a picnic, and hike down to Bass Lake to take in the natural beauty. Just a short ride from downtown (and actually connected via a walkway to Bass Lake), this spot is a favorite for many Blowing Rock travelers.
Milepost 294, Blue Ridge Parkway
Blowing Rock, NC 28605
828-295-3782 
Blowing Rock is known as the Crown of the Blue Ridge, and rarely is the name more apparent than when looking out over Thunder Hill Overlook. Located at Milepost 290.4 on the Blue Ridge Parkway, Thunder Hill is the perfect place to pull off and refuel with some food and a view like no other. This spot includes a paved parking lot, which is great for those who prefer to eat on the tailgate or with the roof down. Many people also like to pitch a blanket on the slope behind the overlook, on the other side of the Parkway. 
Milepost 290.4, Blue Ridge Parkway
Blowing Rock, NC 28605
Located just a block from downtown Blowing Rock, behind the American Legion Building, is Broyhill Park. Home to a beautiful gazebo and lake with a fountain, the park is truly picturesque. A walking trail circles Mayview Lake so it's a great place for a relaxing stroll after a delicious picnic! Broyhill Park is also home to some very friendly ducks! (Please feed them seed and not bread!) For visitors looking to have a picnic in town, Broyhill Park is worth visiting! 
173 Lakeside Drive
Blowing Rock, NC 28605
828-295-5222
Blowing Rock's central landmark is easily Memorial Park. The entire block is lined with a beautiful garden, and benches for relaxing with a large gazebo where people often play music at the entrance. Then there is a large park with tennis courts, basketball goals, and tons of equipment. Memorial park boasts four covered picnic tables for people to eat out of the direct elements and four open air picnic tables. There are also conveniently located restrooms nearby.
1040 Main Street 
Blowing Rock, NC 28605
828-295-5222
6. Robbins Pool Picnic Area
There is a small picnic area and slide located just above Robbins Pool. It has a small charcoal grill, four covered picnic tables, and garbage receptacles. The area is well manicured, with a paved walkway connecting it to the pool's parking lot. One of the picnic tables is also handicapped accessible. During the summer months the pool's bathrooms are available, but from Labor Day to Memorial Day they are closed.
173 Lakeside Drive
Blowing Rock, NC 28605
828-295-5222
Sterling Creek Park is a small park located right off of the Middle Fork Greenway Trail. It can be accessed directly off of Highway 321, or from the parking lot at Mystery Hill. The park has whimsical bird houses and three picnic tables. One is out in the sun and the other two are located by the trail in the shade. The park sits next to the Sterling Creek which gurgles happily along the trail. It is a picturesque little place to picnic.
179 Whitener Mountain Road
Blowing Rock, NC 28605
One neat fact about Blowing Rock is that several of our local attractions allow guests to bring their own food for a picnic. The Blowing Rock Attraction, Grandfather Mountain, and Tweetsie Railroad all allow picnics. They do sell food for people to purchase as well. Grandfather Mountain has many picnic tables and overlooks, The Blowing Rock Attraction has a covered sitting area with tables and chairs, and Tweetsie has sprawling fields that are perfect for laying out a blanket.
If you find yourself wanting to picnic, but you don't have supplies, Blowing Rock has some options for you to pick up quickly on your way!
No picnic is complete without a basket, and you can find them at the Blowing Rock Market. Located at the corner of Main St. and Park Ave., the Market offers pre-made sandwiches, snacks, old-fashioned sodas, beer, wine, and more.
Sunset & Vine is a great stop to fill your newly purchased basket with a wide array of wines, cheeses, and charcuterie to compliment any occasion.
If you are planning a special event, and need a little extra pizzazz to your picnic, look no further than Wanderlust Picnics. They will stage a lavish picnic setting perfect for any special event or party. They also make the process simple by working with their partners for food, flowers, etc. 
Funky Tulip has been awarded the title of "Best Holiday Glow" for 2023! Leading up to the Holiday Stroll on December 8th over 250 votes were cast to crown the "Best Holiday Glow" in Blowing Rock.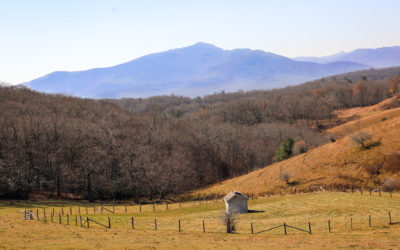 2023 is the Year of the Trail in NC, and we've extended our trail experiences into November! This month we hiked up to the Cone Fire Tower, the Boone Greenway, the last portion of Tanawha, and out to Otter Falls at Seven Devils. As always, please remember to pack plenty of water and snacks, and to do some research before you set out on your hiking experience. Read along below, and see what we've been up to in November.
Some of our shops really go all out with Holiday Decorations, and we want you to weigh in on which one offers the Best Holiday Glow! Rate each window 1-5 stars to help choose the winning store at our Holiday Stroll on December 8. Make sure to cast your votes before December 8 at noon!