25 Days of Holiday Shopping
Nothing is quite like the twinkle and warmth of a small town decked-out for Christmas, and Blowing Rock delivers the ambiance every year. 2020 is no exception, and you'll find plenty of lights, window displays, and holiday cheer! This holiday season, get your tree and everything to go under it in Blowing Rock- from apparel and accessories to that perfect keepsake, the shops in Blowing Rock have you covered for all your gifts this winter.  Prefer to shop from home? See our list of online shopping links for Blowing Rock businesses here!
Join us for the Holiday Stroll on Friday, December 4 for an extra dose of holiday cheer while you do your gift shopping!
For the 2020 holiday season, local businesses are sharing 25 Days of Shopping with you! This selection is produced by the Blowing Rock Chamber of Commerce. New items posted daily from November 11 to December 5: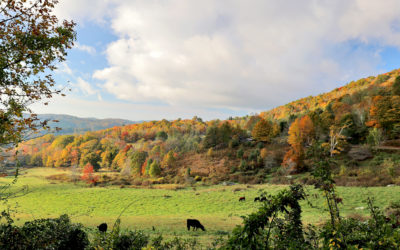 As fall foliage increases around Blowing Rock's elevation, rural drives are one of the best ways to enjoy the scenery! Edmiston Road at Flat Top RoadElevation around 3900 feet    This view is found near Appalachian Ski Mountain. Flat Top Road continues to Deck Hill...
Don't miss deals at Tanger Outlets in Blowing Rock! Tanger is offering exclusive sales earlier than ever. During the week leading up to Thanksgiving, Tanger will promote Super Sale Days, where shoppers can save big. All stores will be closed on Thanksgiving Day and will open at 6:00am on the day after Thanksgiving. Deep holiday sales will continue throughout the weekend! If you haven't been in a while, there are some new stores, including local and regional shops. Just for the holidays, Tanger welcomes a Nail It DIY pop-up with lots of fun crafting gifts and projects!
See Tanger Outlets, Blowing Rock on Facebook
Visit Online for Store Information