Blowing Rock Area Hiking Trails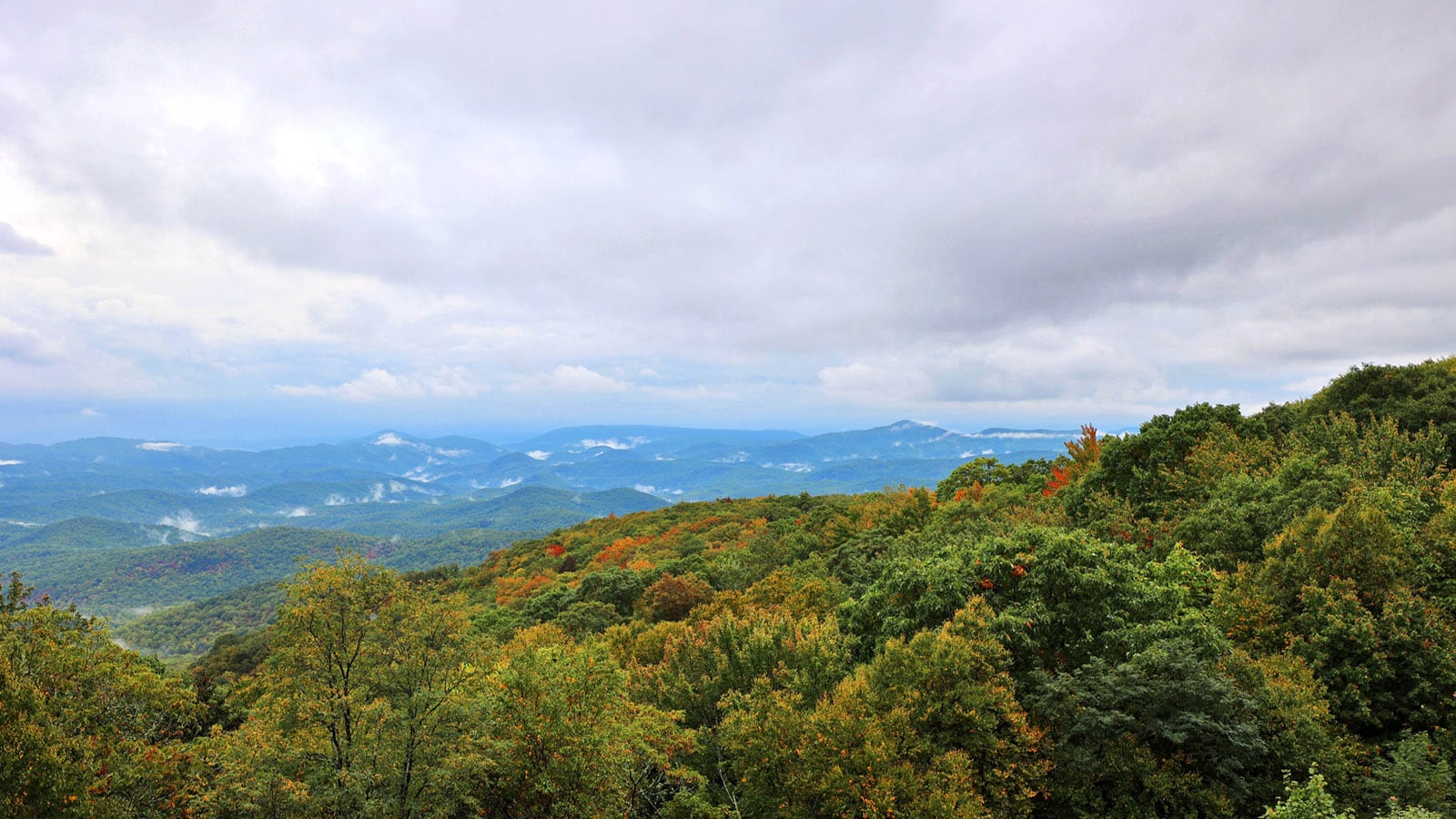 Adjacent to Pisgah National Forest, Moses H. Cone Memorial Park, Julian Price Park, and the Blue Ridge Parkway, Blowing Rock is the perfect place to begin your hiking adventure. Also nearby is Grandfather Mountain, the Linville Gorge Wilderness area, and parts of the Mountains-to-Sea Trail.   There are so many beautiful places in our backyard… what are you waiting for?

Our natural places are important to us! Please practice Leave No Trace principles while hiking to ensure they remain healthy and beautiful for everyone's enjoyment.
Downtown Hiking to Waterfalls
The Glen Burney Trail in Blowing Rock offers a rugged experience just steps from Main Street! Descending 800 feet into the John's River Gorge, the trail follows New Year's Creek with views of three waterfalls, two of them fairly large. This 1.2 mile trail ends at Glen Mary Falls. It's out-and-back, so the hike is 2.4 miles round trip.  The trail head is located at Annie Cannon Gardens on Laurel Lane. Please note that this is a moderately strenuous, steep trail. Click here for a map.
Looking for more waterfalls in the area? Click here to see our Waterfalls page!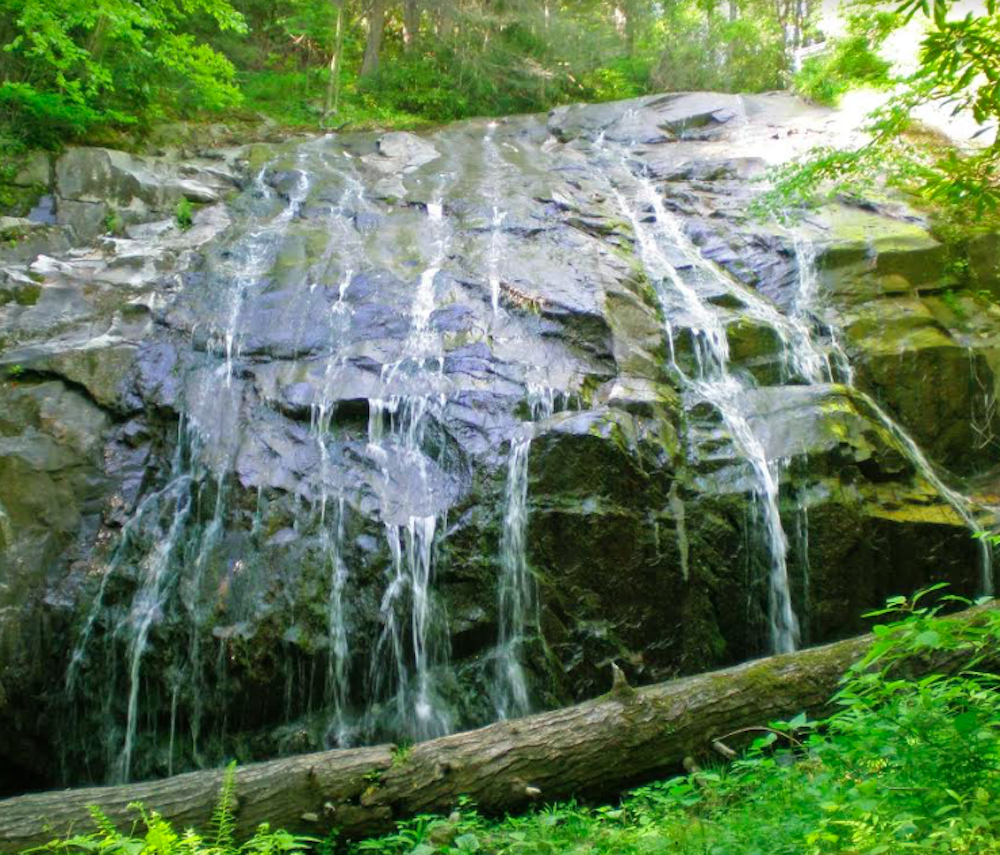 On the Blue Ridge Parkway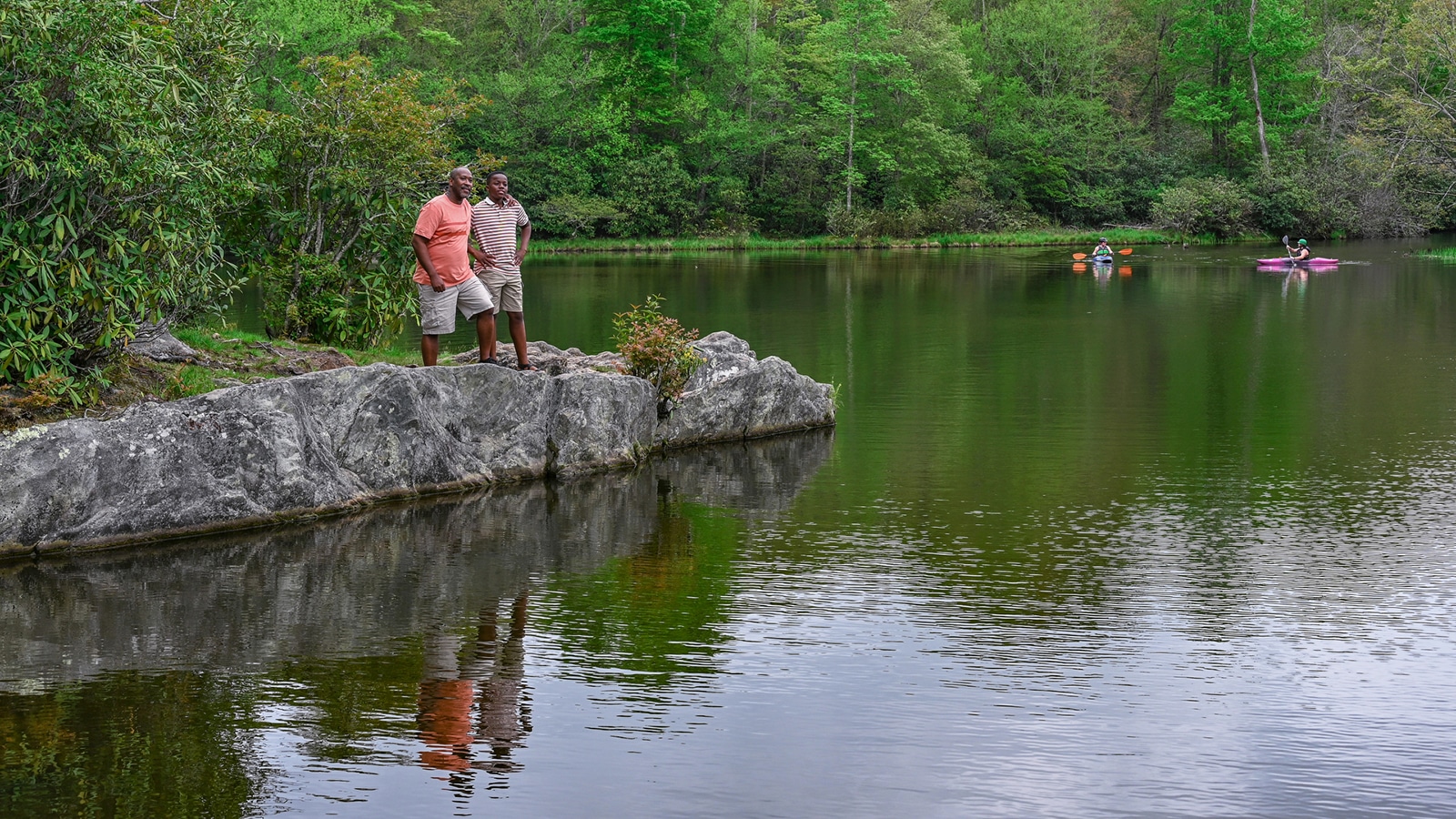 NC Mountains To Sea Trail
The Mountains to Sea Trail of North Carolina is a 935+ mile trail consisting of footpaths, roads, and state bike routes from Clingman's Dome in the Smokies to Jockey's Ridge on the coast. The trail passes through Blowing Rock, largely following the Blue Ridge Parkway in this area. You can find details on the High Country sections of the trail near Blowing Rock by checking out Segment Five. The trail is varied here, passing along waterways and through cow pastures, and also utilizing part of the Cone Carriage Trails. Click on "trail information" on the Official Website for trail maps.
Grandfather Mountain
The Grandfather Mountain attraction requires a fee, but Grandfather Mountain State Park does not. To access hiking within the boundaries of the attraction for free, you must come in from trailheads outside the attraction.  Hikers are required to register before hitting the trails. Access to the closest trails to Blowing Rock is less than 15 minutes from downtown.
---

Elk Knob State Park
Elk Knob State Park features one of the highest peaks in North Carolina's High Country at 5,520 feet, and you can hike to the top! There are three other trails in addition to the Summit Trail, rated easy to moderate. The park has free admission and is open in all seasons. It's north of Boone, about 35 minutes from Blowing Rock.
---

Mount Jefferson State Natural Area
Mount Jefferson is a distinctive formation, with an abrupt rise to 1600 feet above the surrounding landscape. Visitors can drive nearly to the top of the peak, experiencing long range views along the way. A network of five trails allows exploration of unique mountain habitats. The trails are rated moderate to strenuous. The park is located in West Jefferson, about 45 minutes from Blowing Rock.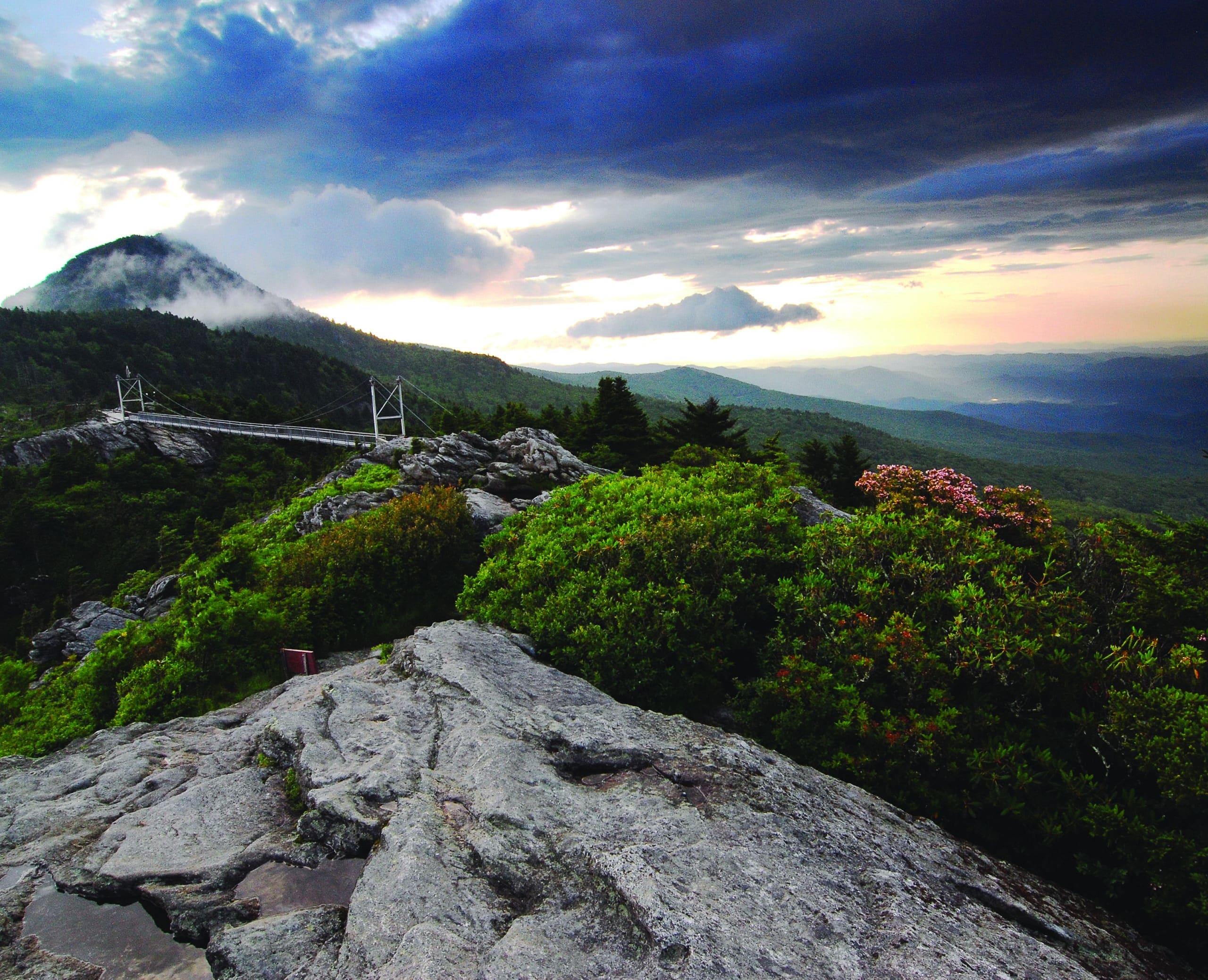 The Pisgah National Forest covers 510,119 acres in four districts: the Grandfather, Toecane, French Broad, and Pisgah districts. Blowing Rock is located on the eastern boundary of the Grandfather District. Click HERE for a map of the Grandfather and Toecane districts of the forest.
---
Linville Gorge Wilderness trails are signed at trailheads but are not signed or blazed once inside the wilderness. This network is separate from the well-used Blue Ridge Parkway trails to the falls. You should be able to read a topographical map and use a compass. Be sure to download or take a map- phone signals can be spotty. These trails should only be attempted by experienced hikers with proper equipment! Here's a site that offers some additional trail information.
A detailed trail map for the Linville Gorge Wilderness Area can be requested:
Grandfather Ranger District
109 East Lawing Drive
Nebo, NC 28761
(828) 652-484l / 2144
The Linville Gorge Wilderness area is a rugged treasure. Please take care to preserve the resource for others: No Trace Hiking & Camping info
---
Wilson Creek Wilderness Area offers challenging trails in a rugged and beautiful setting with secluded coves, cascades and waterfalls, and plenty of tering holes for wading and swimming. Most should only be attempted by experienced hikers. The small communities of Globe, Gragg, and Mortimer are found in the area, and access is limited but fairly simple. Follow Roseborough Road or Edgemont Road from the Blue Ridge Parkway or Globe Road from Blowing Rock for the easiest routes. Despite marked roads, four-wheel drive is still recommended. A trail map is also a good idea- pick one up at a local outfitter as phone signals can be limited in remote areas.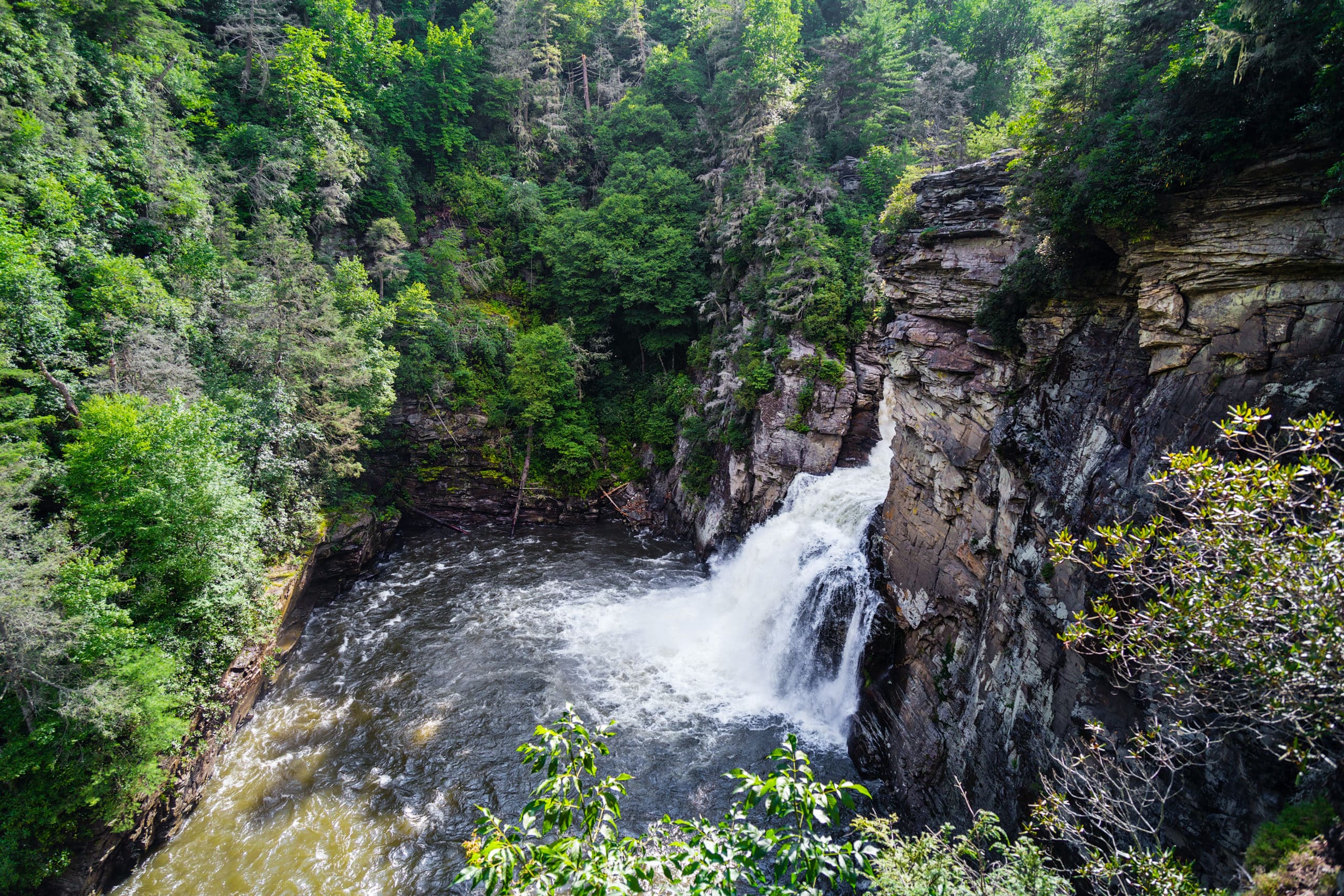 The Appalachian Trail is a 2,175-mile long footpath stretching through 14 eastern states from Maine to Georgia. In this area, the trail generally runs along the NC/TN border through the Pisgah and Cherokee National Forests. The Official Website for the Appalachian Trail has detailed info on the trail, as well as downloadable maps.
Related Articles About Hiking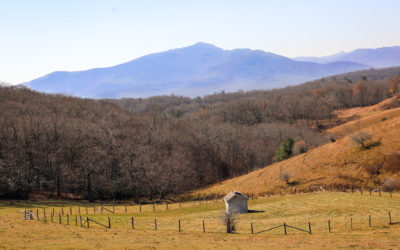 2023 is the Year of the Trail in NC, and we've extended our trail experiences into November! This month we hiked up to the Cone Fire Tower, the Boone Greenway, the last portion of Tanawha, and out to Otter Falls at Seven Devils. As always, please remember to pack plenty of water and snacks, and to do some research before you set out on your hiking experience. Read along below, and see what we've been up to in November.