Fall Color Blog
More Fall activities and posts below the Color Blog!
2021 Daily Fall Photos will begin October 1.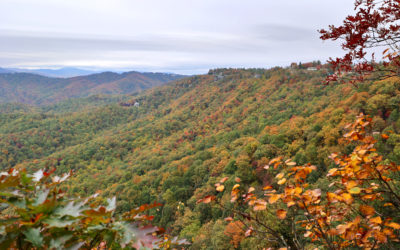 Just before the rain settled in today, we took a look at the views from The Blowing Rock. This vantage point from the top of the John's River Gorge offers a beautiful illustration of foliage color gradually moving to lower elevations as the season progresses. Of...
read more
Fall Activities
Discover ideas for your autumn visit!
Fall events make the season extra festive! If you have missed a festival, note the timing of individual events to plan ahead for the following year. Dates change, but in general, each festival is held the same weekend in each year (ex: Woolly Worm Festival is the...
read more
Fall means harvest time, and it brings more to mind than just pumpkin spice... everything. Whether you're looking for a pick-your-own orchard, a corn maze, or just want to take home a taste of fall in the NC Mountains, this list has you covered. From orchards to farm...
read more
It's fall here in the High Country, which means leaf lookers from all around come to see the magnificent autumn colors our beautiful mountains have to offer. There are many fantastic vantage points and gorgeous scenic drives to enjoy!  But if you want to turn your...
read more
We want you to have a safe and relaxing visit on your next trip to Blowing Rock! Here are 10 tips for for less stress: Visit on a weekday if you can. The leaves are just as beautiful on a Wednesday, and the traffic is less dense. Plan early morning times for outdoor...
read more
The 2021 Blowing Rock Halloween Festival will take place on Saturday, October 30. Join Blowing Rock Parks & Recreation for tons of FREE fun with a full afternoon of spooky activities! From downtown trick-or-treating to the famous Monster March, this is among the...
read more
Updated November 18, 2021, 11:05 am. Blowing Rock's businesses are open. The safety of our community and visitors is a top priority. Nearby: The neighboring Town of Boone has instated a mask mandate requiring any persons aged 2+ to wear a mask while indoors inside...
read more
The warm light creates the evening "golden hour" when everything is cast in a glow. Sunset light enhances fall colors, too! Check out these beautiful, no-hike sunset spots for a perfect end to your day whether with your friends, your significant other, or alone with...
read more
It's apple season! In the fall, High Country produce stands and farmers markets are bursting with unique apple varieties. In Blowing Rock, local apples are available at Sunset Tees & Hattery and Blowing Rock Market during the fall season. Which apples are best for...
read more
Blowing Rock is home to several waterfalls, and there are even more to be found in the nearby region. See below for directions to more than a dozen waterfall viewing sites. Several require hiking, so they are arranged by trail difficulty. Each of these falls is...
read more
The High Country's beautiful streams, lakes, and rivers provide wildlife sanctuaries and many recreational opportunities- like fishing! The best times of year to fish for trout here in in the High Country are the spring, fall, and winter months, when the water...
read more
The High Country has a wine trail! If you haven't visited our local wineries, you're in for a real treat. Great wine and beautiful views combine for a unique experience at each location. Grandfather Mountain Winery is in Foscoe, just to the northwest of Blowing Rock....
read more
Fall Events
We add new events often so if you do not see many listed, check back soon.
<!=========Carousel View Template 2.7.3=========>
There are no upcoming events at this time.