Fall Color Blog
More Fall activities and posts below the Color Blog!
2023 Daily Fall Photos will begin September 23.
We are four days into our Daily Fall Photos and there are definitely pops of color showing up around town. However, the area is still predominantly green for the time being. We've been to Chetola, around Blowing Rock, and up to Grandfather Mountain.
read more
Fall Activities
Discover ideas for your autumn visit!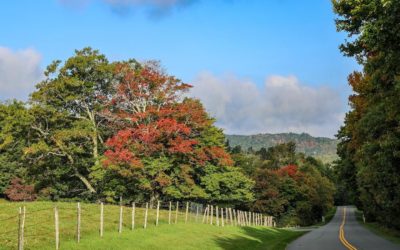 It's that time of year again. We are starting to see the changes of Fall here in the High Country.  Blowing Rock is an excellent destination for fall color, some might say the best. There are a few reasons why our location is an ideal one with such vibrancy and it all comes down to variety.
read more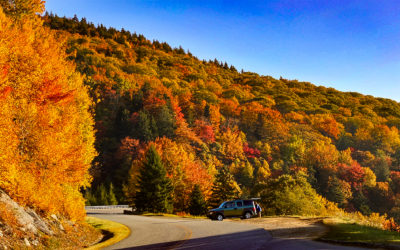 Our 2023 Daily Fall Photos begin tomorrow, September 23, and we are so excited! As we prepare to kick off the new season, we are taking a look back at last year's scenes. We've selected ten of our favorites to share with you! See our 10 Best Fall Photos of 2022 below.
read more
The High Country's beautiful streams, lakes, and rivers provide wildlife sanctuaries and many recreational opportunities- like fishing! The best times of year to fish for trout here in in the High Country are the spring, fall, and winter months, when the water temperature is between 45° and 65°. Our waters offer excellent opportunities for catching brown, brook, and rainbow trout.
read more
What do you do in Blowing Rock when the fog has set in and you can't see the natural splendor? Read on for some local activity suggestions while you wait out a foggy day. 
read more
Head to Blowing Rock for a family friendly choose & cut tree experience. Start the trip off with a stroll in our festively lit downtown. Don't miss a twinkle light with this itinerary designed to maximize family fun!
read more
Join Blowing Rock Parks & Recreation for tons of FREE fun with a full afternoon of spooky activities! From downtown trick-or-treating to the famous Monster March, this is among the best Halloween events for kids of ALL ages. Memorial Park, located right in the middle of downtown, is the center for all the fun!
read more
Several restaurants and eateries in Blowing Rock will be open on Thanksgiving Day to welcome you! Reservations are required at most. Follow the links provided for more information on each restaurant.
read more
There's lot of Halloween fun in the High Country! Some is scary, some is just a little spooky.
Follow the title links for details about all these events!
read more
Blowing Rock is an excellent place to go on a picnic. Whether you're looking for a romantic date, a fun lunch with friends, or a family memory, a picnic can be a great option. We've compiled a list of picnic locations in and around Blowing Rock that are beautiful and versatile! 
read more
Fall events make the season extra festive! If you have missed a fall festival, note the timing of individual events to plan ahead for the following year. Dates change, but in general, each festival is held the same weekend in each year (ex: Woolly Worm Festival is the third weekend in October).
read more
Blowing Rock is home to several waterfalls, and there are even more to be found in the nearby region. See below for directions to more than a dozen waterfall viewing sites. Several require hiking, so they are arranged by trail difficulty. Each of these falls is...
read more
The warm light creates the evening "golden hour" when everything is cast in a glow. Sunset light enhances fall colors, too! Check out these beautiful, no-hike sunset spots for a perfect end to your day whether with your friends, your significant other, or alone with...
read more
Fall Events
We add new events often so if you do not see many listed, check back soon.
<!=========Carousel View Template 2.9.6=========>