Situated on the Eastern Continental Divide, Blowing Rock is known for its majestic views of sweeping mountain vistas. This position can also make the local weather more varied, bringing days with wide temperature ranges, or strong winds, or some days with very heavy fog! What do you do in Blowing Rock when the fog has set in and you can't see the natural splendor? Read on for some local activity suggestions while you wait out a foggy day. 
Staying in town with these suggestions can reduce the need to drive in the fog. When you need to travel any distance in fog, stay safe and use best practices like keeping your low beams on and driving slowly.
Still want to enjoy the outdoors? Wandering the local wilderness can be risky in adverse weather conditions, so please do not attempt new or challenging trails in foggy weather. One trail network, however, is very close to town and could be enjoyed in less-than-ideal conditions. The carriage trails in Moses Cone Memorial Park are just a ½ mile from Main Street and offer a safer hiking environment. They are well-defined, in good repair, and removed from vehicular traffic. Be sure to stay on the trails, and dress appropriately for damp weather. You may also want to plan for longer and take extra water, as you might travel slower than you usually would. Hiking in fog can be a startlingly different experience, and extra precautions can help assure an enjoyable adventure.
The Saddlebred Division is June 8-11, 2023 The Hunter/Jumper I Division is July 25-30, 2023 The Hunter/Jumper II Division is August 2-6, 2023 The Blowing Rock Charity Horse Show is the oldest continual outdoor horse show in the country, having persevered through wars,...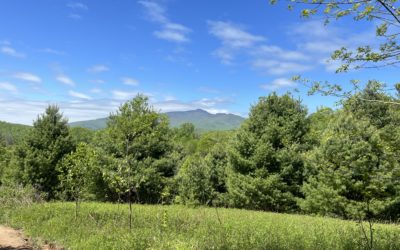 2023 is the Year of the Trail in NC, and we've extended our trail experiences into May! This month we've added a variety of trails so there is hopefully something for everyone. As always, please remember to pack plenty of water and snacks, and to do some research before you set out on your hiking experience. Read along below, and see what we've been up to in May.
National Park Service officials remind visitors to enjoy the view, and watch the road.May 23, 2023: Blue Ridge Parkway campgrounds, picnic areas, and visitor centers open with full services for the 2023 visitor season this weekend, and National Park Service managers...