Situated on the Eastern Continental Divide, Blowing Rock is known for its majestic views of sweeping mountain vistas. This position can also make the local weather more varied, bringing days with wide temperature ranges, or strong winds, or some days with very heavy fog! What do you do in Blowing Rock when the fog has set in and you can't see the natural splendor? Read on for some local activity suggestions while you wait out a foggy day. 
Staying in town with these suggestions can reduce the need to drive in the fog. When you need to travel any distance in fog, stay safe and use best practices like keeping your low beams on and driving slowly.
Still want to enjoy the outdoors? Wandering the local wilderness can be risky in adverse weather conditions, so please do not attempt new or challenging trails in foggy weather. One trail network, however, is very close to town and could be enjoyed in less-than-ideal conditions. The carriage trails in Moses Cone Memorial Park are just a ½ mile from Main Street and offer a safer hiking environment. They are well-defined, in good repair, and removed from vehicular traffic. Be sure to stay on the trails, and dress appropriately for damp weather. You may also want to plan for longer and take extra water, as you might travel slower than you usually would. Hiking in fog can be a startlingly different experience, and extra precautions can help assure an enjoyable adventure.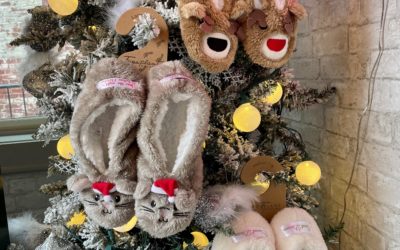 Keep your toes warm on those cold winter nights with our super cute footsies! We have several styles to choose from. Come check it out today!
Our favorite things are always found where comfort meets style and function, so it was unanimous that we choose our faux fur throws! Cruelty free, these throws are an absolute delight for your senses that stand up to daily use. 
High Country Wood Works favorite thing this year is a Christmas tree dough bowl. It is $35 and about 14×9″. It is extremely versatile and can be used to display Christmas ornaments, candy, small candles or anything decorative.