Christmas Season Celebrations at BRAHM
From their Holiday Open House to the Madrigal Feast, there is lots to see and do this season at the Blowing Rock Art & History Museum! Check out these special events in the weeks leading to Christmas.
Holiday Open House, Concert & Craft
Saturday, November 25:
FREE admission to Blowing Rock Art & History Museum all day long, 10:00 am – 5:00 pm, plus their Holiday Open House with a Concert & Craft. After the Town's Christmas Parade (ends around 2:45pm), stop in, warm up, explore their Winter Exhibits, and enjoy a free concert by local band "Mexican Hot Chocolate" and holiday card making.
Winter Exhibition Celebration
Thursday, November 30:
The community is invited to celebrate the grand opening of three exhibitions with a reception on Thursday, November 30 from 5 to 7:30 p.m. The Museum will provide hors d'oeuvres, live music, and free admission throughout the evening. The event is open to the public. Along with a cash bar, there will be a special seasonal beer tasting offered by Blowing Rock Brewing Company!
The Museum is featuring three new exhibitions at the reception: "Arts at the Center: A History of Black Mountain College," "Comic Stripped: A Revealing Look at Southern Stereotypes in Cartoons," and "Cecil Sharp in Appalachia." The Museum's on-going exhibitions, "Selections from the Collection" and the recent "Village of Blowing Rock: Exploring Our History" will also be open, along with a special exhibition of photographs by local artist, Shauna Caldwell.
St. Mary's Madrigal Feast
Friday, Saturday, & Sunday, December 1-3:

The Choir of St. Mary of the Hills in Blowing Rock requests the pleasure of your company at the legendary musical and gastronomic treat, "The Revels of Winter". With four courses of magnificent medieval-style food and drink provided by Gideon Ridge Inn, madrigals and carols sung by the costumed choir as they serve spirits and comestibles, and original (occasionally bawdy) entertainment written and performed by the Jester and Wench, the evening promises to be one of general amusement and high revelry. The entertainment will be held in the art-lined Baronial Hall also known as BRAHM (The Blowing Rock Art and History Museum) on Main Street in Blowing Rock, and this year is offered on Friday and Saturday nights, December 1st and 2nd, at 6:30 pm each evening, and on Sunday afternoon, December 3rd, at 1:00 pm. Tickets are $100 per person. The Friday performance is currently sold out. More remain for Saturday and Sunday! For reservations, please call the church at (828) 295-7323 (you may pay by credit card or check made payable to St. Mary of the Hills Episcopal Church)."The Revels of Winter" is the primary fundraiser for the St. Mary of the Hills Choir study trip to the U.K.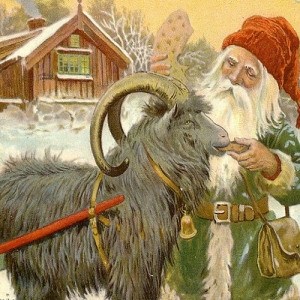 Carols & Wassailing
Thursday, December 14:
Come sing in Christmas with a wintertime sing-along at the Carols & Wassailing event! Enjoy hot cider and treats while sharing carols and other Christmastime tunes! The host, Saro Lynch-Thomason, will teach a few songs from English wassailing traditions, a practice going back to medieval times in which peasants would sing for cider, gifts and food at the homes of nobles. We will also sing carols collected from the Appalachian Mountains. Participants are welcome to bring seasonal songs good for singing in groups, and admission is free! BRAHM's galleries will be open until 7, and you are welcome to stroll through before caroling. Admission to the museum is free the day of the event, though donations are always appreciated.
There's even more on the calendar at the Blowing Rock Art & History Museum this season, with events like Scholars & Scones, Coffee with the Curator, and Doodlebug Club. See more at www.blowingrockmuseum.org
See more holiday events and activities on our Holidays in Blowing Rock page!