(As of March 30, 2020, 2:25 pm. Page updated frequently.)
In this time of uncertainty, preservation of the safety, health, and wellbeing of our communities is a priority for us all. We are in constant communication with our local and state officials, and are working to provide the most updated local information about the current response to the COVID-19 health crisis. We here in Blowing Rock look forward to welcoming our visitors, our friends, back to the Crown of the Blue Ridge. Know that when it's time to travel again, we'll be here.
In the meantime, we encourage everyone to support small businesses safely! Locally owned small businesses are the heart of our town, and many travel destinations we all love. Let's all help them as much as we can! If you're able, buy a voucher from your favorite hotel, order something from a boutique's online store, or get a gift card from a restaurant. You can also leave a review, post a photo from the last time you visited, or make a recommendation to a friend. No gesture is too small.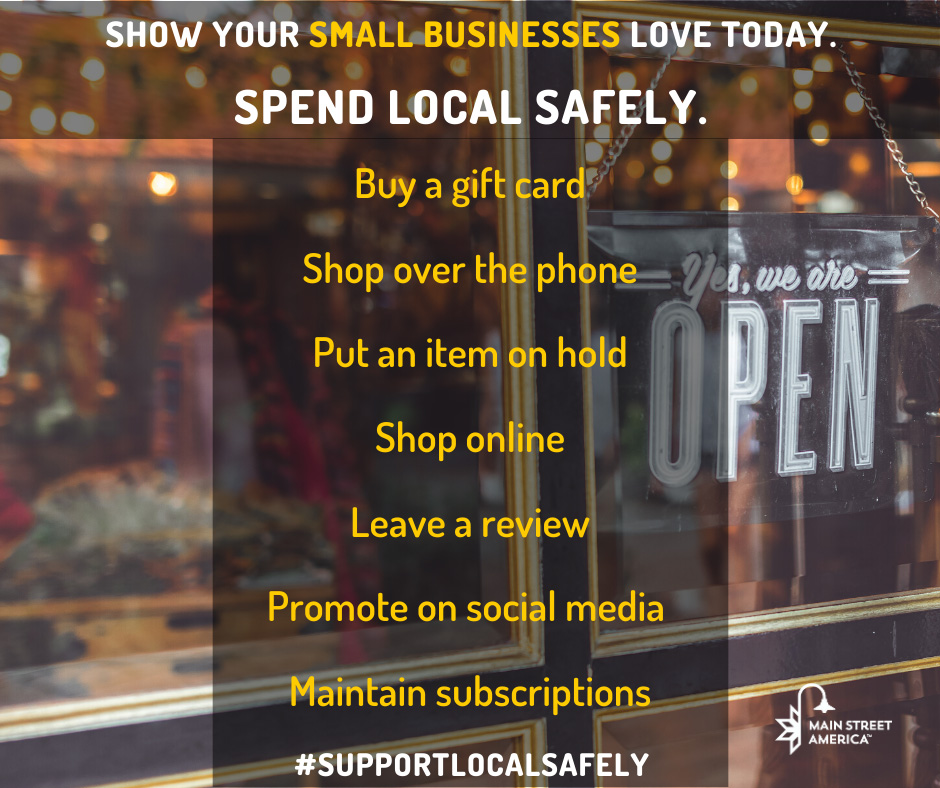 Dining Information
As of March 17, dining-in is prohibited in NC restaurants. Takeout and delivery is still permitted. Please consider ordering takeout from a restaurant or a purchasing a gift card, and look for ways to support local businesses during this time!
Shopping Information
While some of our essential businesses continue to operate in a safe and responsible manner, others have temporarily closed. You can still support them! Click below to see those offering online shopping and/or gift cards.
For the current combined list of essential business shop hours, plus closures, follow this link:
> List of Blowing Rock business hours PLUS closures <<
Giving and Receiving Help
As closures and economic changes take their toll on local businesses and residents, regional assistance organizations are gearing up to provide more help. We have been so humbled and moved by the strength of our local community, and the openness with which its members have offered help and support to each other. Follow this link to find resources, or to find ways to get involved.
Business Resources
The Blowing Rock Chamber of Commerce has compiled a list of resources for local businesses.
Click here for small business financing and crisis relief information.
Local Response
Watauga County has issued a State of Emergency. As of March 26, overnight stays by visitors in lodging facilities is prohibited for the duration of the State of Emergency.
In North Carolina, Governor Roy Cooper has ordered a Stay At Home Order. The Executive Order directs people to stay at home except to visit essential businesses, to exercise outdoors or to help a family member. Specifically, the order bans gatherings of more than 10 people and directs everyone to physically stay at least six feet apart from others. All North Carolina Schools are closed until May 15. All dine-in services at restaurants are closed in NC; take-out and delivery are still available.
See all COVID-19 related NC Executive Orders here.
A few positive cases of COVID-19 have been identified in Watauga County and the individuals are under quarantine; for the most up-to-date local developments, see the Appalachian District Health Department website. If you have questions about COVID-19 and best practices for protecting yourself, visit CDC.gov.
It's important to follow guidance from the CDC , as well as recommendations from the NC Division of Health & Human Services. Special precautions are needed for high-risk individuals, which includes adults over 60 and people with underlying health conditions.
Getting in Touch
Contact us at the Blowing Rock Tourism Development Authority by phone, email, or social media.
Blowing Rock Town Hall offices and the Visitor Information Center are currently closed to the public, but both offices continue to answer questions and work by phone, email, social media, and websites.