COVID-19 Updates & Resources
(Updated March 25, 2021, 4:45 pm) In this time of uncertainty, preservation of the safety, health, and wellbeing of our communities is a priority for us all.  We are in constant communication with our local and state officials, and are working to provide the most updated local information about the current response to the COVID-19 health crisis. Remember: if you leave home, know your Ws!
If you plan to visit, please see our Basics on Phased Reopening page. We hope this will answer any questions you might have about enjoying time in Blowing Rock. There is also information about lodging, restaurants, retail, and local response below.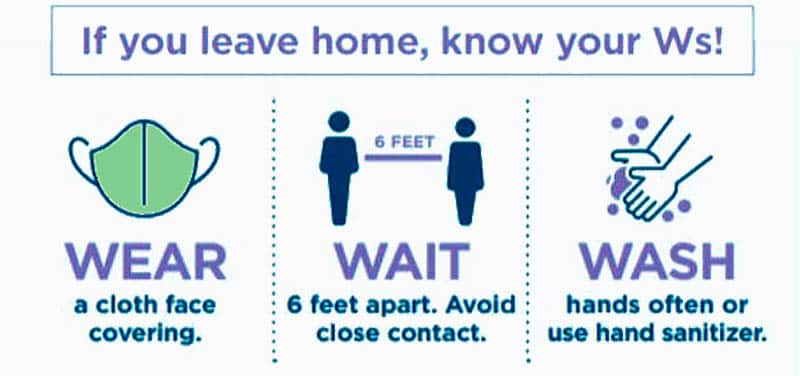 We encourage everyone to support small businesses safely! Locally owned small businesses are the heart of our town, and many travel destinations we all love. Even if you aren't traveling right now, you can show support. If you're able, buy a voucher from your favorite hotel, order something from a boutique's online store, or get a gift card from a restaurant. You can also leave a review, post a photo from the last time you visited, or make a recommendation to a friend. No gesture is too small.
Business Resources
Find our toolkit for hospitality businesses here.
The Blowing Rock Chamber of Commerce has compiled a list of resources for all types of local businesses.
Click here for small business financing and crisis relief information.
Local Response
In North Carolina, Phase 3 of the re-opening plan is still in place.
*As of June 26, 2020, people are required to wear face coverings in public spaces, whether inside or outside, where physical distancing of six feet is not possible. This would include busy sidewalks and parks.
*To-go mixed drinks may be available from restaurants, with restrictions.
*A ban on gatherings of more than 50 people indoors and 100 people outdoors is in effect, and everyone is still directed to physically stay at least six feet apart from people outside their household.
*All businesses must implement measures for social distancing and enhanced cleaning. Reduced limits on capacity will help with these measures. Outdoor exercise is still encouraged.
*On February 26, 2021, the  NC Secretarial Directive  and restrictions under NC Executive Order 181  were lifted.
Learn more about the three-phase plan to reopen NC businesses and gradually lift the Stay at Home order here.
See all COVID-19 related NC Executive Orders here.
For the most up-to-date information on local developments regarding COVID-19, see the Appalachian District Health Department website. If you have questions about COVID-19 and best practices for protecting yourself, visit CDC.gov.
It's important to follow guidance from the CDC , as well as recommendations from the NC Division of Health & Human Services. Social distancing is important, even if you don't feel sick. If you do feel unwell, stay at home and monitor your symptoms. Special precautions are needed for high-risk individuals, which includes adults over 60 and people with underlying health conditions.
Getting in Touch
Contact us at the Blowing Rock Tourism Development Authority by phone, email, or social media.
Blowing Rock Town Hall offices and the Visitor Information Center are currently open to the public, and both offices continue to answer questions by phone, email, and social media.