If you are planning on bringing your dog with you the next time you visit Blowing Rock, here are a few places to check out with your pup.
The Blowing Rock
The Blowing Rock is an immense cliff 4,000 feet above sea level, overhanging Johns River Gorge 3,000 feet below. It promises breathtaking views of our surrounding mountains. Enjoy the scenic views from the observation tower, and stroll through the gardens and gift shop. Visible from the rock are Hawksbill Mountain, Table Rock, Grandfather Mountain, and Mount Mitchell.The Blowing Rock welcomes you and your pet to explore the magical views from the rock. Pets are welcome except during special events. Pets are required to be on leash.
2. Grandfather Mountain
Take you dog to one of the iconic places in the High Country. Grandfather Mountain is one of the highest peaks in the Blue Ridge Mountain range (elevation 5,946 ft.). Pets are permitted inside the park on a leash. They are not allowed inside the buildings due to health regulations and not in the Animal Habitats area. When you're there, you and your dog can explore the famous Mile High Swinging Bridge. The Mile High Swinging Bridge welcomes all visitors to admire 360-degree panoramic views from Grandfather Mountain. It is America's highest suspension footbridge, and was built to give visitors easy access to the breathtaking view from Grandfather Mountain Linville Peak. Grandfather Mountain also has 11 trails varying in difficulty from a gentle walk in the woods to a rigorous trek across rugged peaks. Its a great way to spend some quality time with you dog.
3. Appalachian Mountain Brewery
Appalachian Mountain Brewery, or AMB, is one of the many breweries here in the High Country. Located in Boone, this brewery opened its doors in 2013 and its been booming ever since. This brewery is definitely a popular spot for dogs and would be the perfect spot if you want to let your dog to make a new furry friend. The tasting room features plenty of outdoor seating, a 120 foot long outdoor bar bordering Boone Creek and a covered heated porch perfect for hanging out with your pup and enjoying one of their beers. Not only is this place dog friendly, its eco friendly as well!
4. Doc's Rocks Gem Mine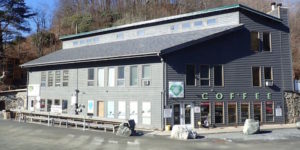 Doc's Rocks Gem Mine is an Appalachian Mountain based gemstone mining operation. They purchase mine ore by the ton from local gemstone mines located in North Carolina, Georgia, Virginia and Tennessee. They then randomly shovel the ore into buckets and resell it to the general public. Doc's Rocks is a very pet friendly business and actually have a few pets of our own there at the mine. Your dog can join you outside while your family shift through to find hidden treasures.
5. Linville Falls
Linville Falls is the most popular waterfall in the Blue Ridge Mountains. The waterfall is a spectacular three-tiered waterfall plunging into Linville Gorge. Pets are welcome but must be on a leash. You and your dog can explore the trails and catch views of this amazing natural monument. Two main hiking trails lead to views of Linville falls. Both begin at the Linville Falls Visitor Center and the Linville Falls trails range in difficulty from moderate to strenuous. The Visitors Center is at Mile Marker 316 on the Blue Ridge Parkway.
The Parkway is also home to many other amazing hiking trails that you and your pup can explore. Click here to see other Parkway hikes.
Want to see more dog friendly ideas in Blowing Rock? visit https://blowingrock.com/dogs/