Nothing says romantic like a cozy experience in the Blue Ridge Mountains. Fireside meals, close rides on ski lifts, hand-in-hand strolls under the lights of downtown streets, and clear views for miles… Blowing Rock is an ideal getaway for romance and celebration! Looking for extra activities to add to a holiday itinerary? Check out these events and suggestions around town near Valentine's Day: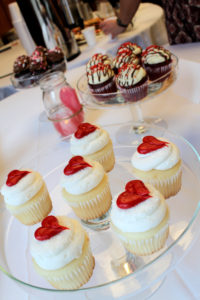 -Tazmaraz will present a Paint, Sip, & Shop Valentine Event a week before the holiday on Wednesday, February 7. The event starts at 6:30 PM in Taz'z Diy Studio below Tazmaraz. Each participant goes home with a painting. All materials are included, such as aprons, brushes, paint and canvases. Participants may bring their choice of beer/wine and snacks. For those who choose to shop before, they will offer after hours shopping from 5 to 6:15 before the Paint event begins. Cost is $35.00 per person. Call them at 828-295-3737 or email at shop@tazmaraz.com to register.
-The Blowing Rock Art & History Museum is hosting a special Cork & Canvas on Wednesday, February 14th! At this special Valentine Edition, each participant goes home with a finished work of art inspired by Georgia O'Keeffe's Series I No. 8 painting. All materials, including canvas, paint, brushes, and aprons, are provided. Wine and light snacks are complimentary. $40/members, $45/non members. Register today at www.BlowingRockMuseum.org. Reservation and payment are required in advance, and seating is limited.
-Green Park Inn offers a special Valentine meal each night from Wednesday, February 14 to Saturday, February 17. Diners can also enjoy 10% off Gruet Brut and Rose bubbly- just right for celebrating! The full menu is also available. Call 828-414-9230 to make a reservation.
-Blowing Rock Parks & Recreation is planning a Sweetheart Soiree on February 17th. The senior community in Blowing Rock is invited to enjoy a whimsical afternoon of live music, dancing and hors d'oeuvres provided free of charge. Romance and slow dancing to tunes from yesteryear and reminiscing memories and lives shared. Singles are welcome! 1-4pm, call 828-295-5222 for more details.
-Appalachian Ski Mountain has a lineup of Presidents' Day Family Weekend events, and there are lots of opportunities to celebrate with your significant other. Check out one of the Moonlight Ice Skating sessions, or enjoy the Saturday night fireworks! For the full schedule, see the event on AppSkiMtn.com.
Looking for more ideas? See our collection of suggestions for Romantic Escapes, including a Romancing the Rock itinerary!