Blowing Rock has a history of attracting creative people who draw inspiration from the natural splendor of the Blue Ridge Mountains. Painter Elliott Daingerfield summered in Blowing Rock, and taught painting classes to ladies (quite progressive for the time) at his home, Edgewood Cottage, which still stands today. He built the Westglow mansion as his third home in Blowing Rock, which is now part of a renowned spa. Pulitzer Prize-winning artist Philip Moose made his home in Blowing Rock for over three decades, painting scenes of Grandfather Mountain and the surrounding ridges. Several more artists soon followed, making their homes in a Blowing Rock neighborhood that came to be known as Artists Alley. Some of Moose's work is in the Permanent Collection at Blowing Rock at & History Museum. Writer Jan Karon was living in Blowing Rock when she began her beloved "At Home in Mitford" series. The first chapters were published as a serial in the town's newspaper, The Blowing Rocket.
Today, there are several galleries in town that showcase local creative works, and many of our shops specialize in handcrafted items. Some places operate as studios as well, where you can talk with the artists behind the work, and often watch them work right inside their local shops! Check out these places in Blowing Rock where you can connect with working artists: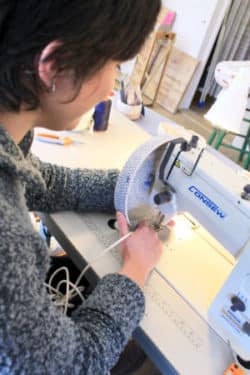 Katherine Lile, a fourth-generation quilter, creates works that marry the modern and the classic in her rope baskets and quilts.  The shop features her work as well as supplies for aspiring and experienced textile crafters, including American made fabrics. This shop was the force behind local makers events like the WinterCraft Handmade Market and the Made in the Mountains Quilting Event. Find the shop at 1098 Main Street, inside the Martin House.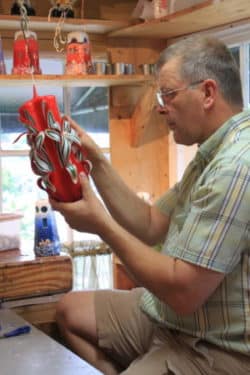 The Ziegler family carves hand-dipped candles into a distinctive pattern of their own, crafting unique keepsakes at their on-site studio at High Country Candles. The art stays intact as the candle is used and they look beautiful when glowing with a flame. All the candles in the shop are hand made, and the shop features lots of signature scents as well. Larry Ziegler is also a talented potter, and some of his pottery is available in the shop. Find them in the Martin House at 1098 Main Street.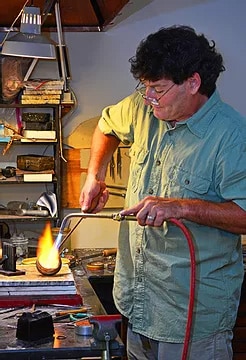 Gaines Kiker Silversmith/Goldsmith
Gaines Kiker makes one-of-a-kind and custom jewelry and sculpture with silver and other metals. His gallery workshop is full of works-in-progress, including newer forays into large-scale wood projects and hand crafted knives. Recently his shop was full of cured cuttings the old maple trees from Memorial Park, which had to be removed due to disease. The wood is being used for benches, tables, charcuterie boards, and other pieces to memorialize the much-missed trees. Gaines seems to have no end of creativity or curiosity about a new medium. Ask him about what he's working on- it might surprise you! The studio shop is located at 132 Morris Street in downtown.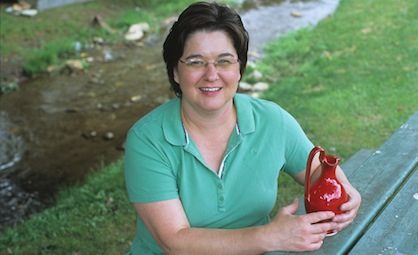 The Bolick family has been crafting traditional pottery for generations. Lula Bolick brings her family's heritage craft from Seagrove, NC to blend with the influence of the Blue Ridge Mountains. She taught the craft to her husband, Glenn, and later to her daughter and son-in-law, Janet and Michael Calhoun. The Bolicks and Calhouns still mix their own clay in a process that comes from Lula's family. Their gallery shop in downtown Blowing Rock holds shapes and glazes that tell the family's history, including striking Owens Red pieces. Janet is often in the shop, and she can tell you everything you ever want to know about clays and glazes, and her family's work. Their studio is located just outside town, where two heritage events are held each year. The old wood-fired kiln is lit for the events, in a process rarely used nowadays. Collector-worthy items from that kiln are available at both events. The shop is found at 1155 Main Street in Blowing Rock, and the studio is just 3 miles from town at 4443 Bolick Road.
Art and science come together in an engaging way at McCoy Minerals. This unique destination is more than a jewelry shop. You can also find an incredible array of rare gemstones, mineral specimens, fossils. Plus, a workshop tucked into a corner where the staff cuts and sets various stones, complete with two viewing windows! You can watch them work at times, and even bring rough gems and stones to be cut for jewelry or display. They also create custom jewelry. You may know the McCoy family from their local gem-mining business, Doc's Rocks, an education-based experience where geology is a clear passion. Randy "Doc" McCoy is a geology and lapidary expert, and he (and any member of the staff) is always happy to chat about gemstones, rocks, or fossils, and has a wealth of knowledge to share. McCoy Minerals is located at 537 Main Street.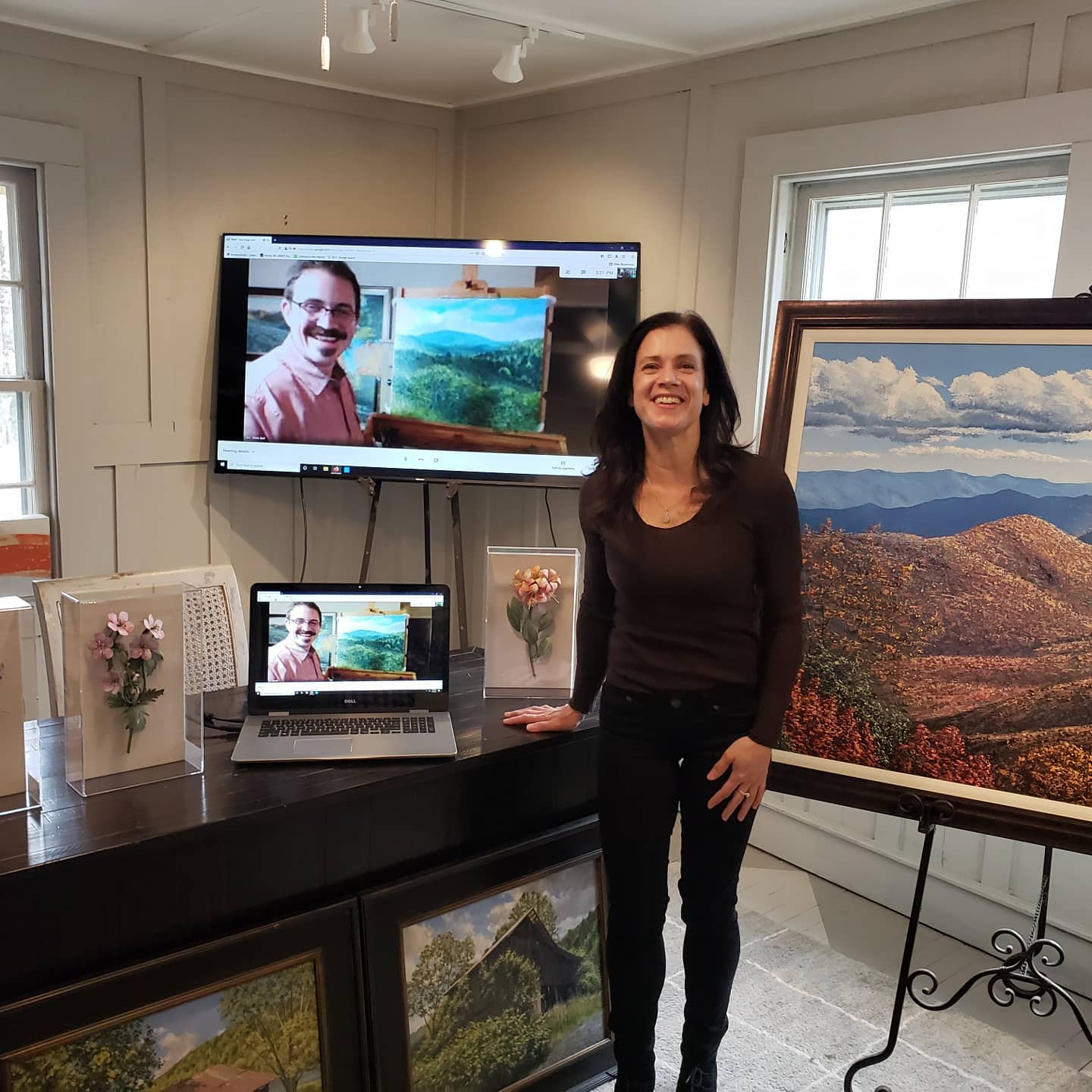 The Martin House Gallery features weekly live stream feeds of gallery-represented artists at work. Watch creators from all across the US from inside the gallery, and view some of their works on display. It's a great way to connect with the artists and ask them about their work. They can chat about their pieces in the gallery, or their current projects. The gallery is upstairs in the Martin House at 1098 Main Street.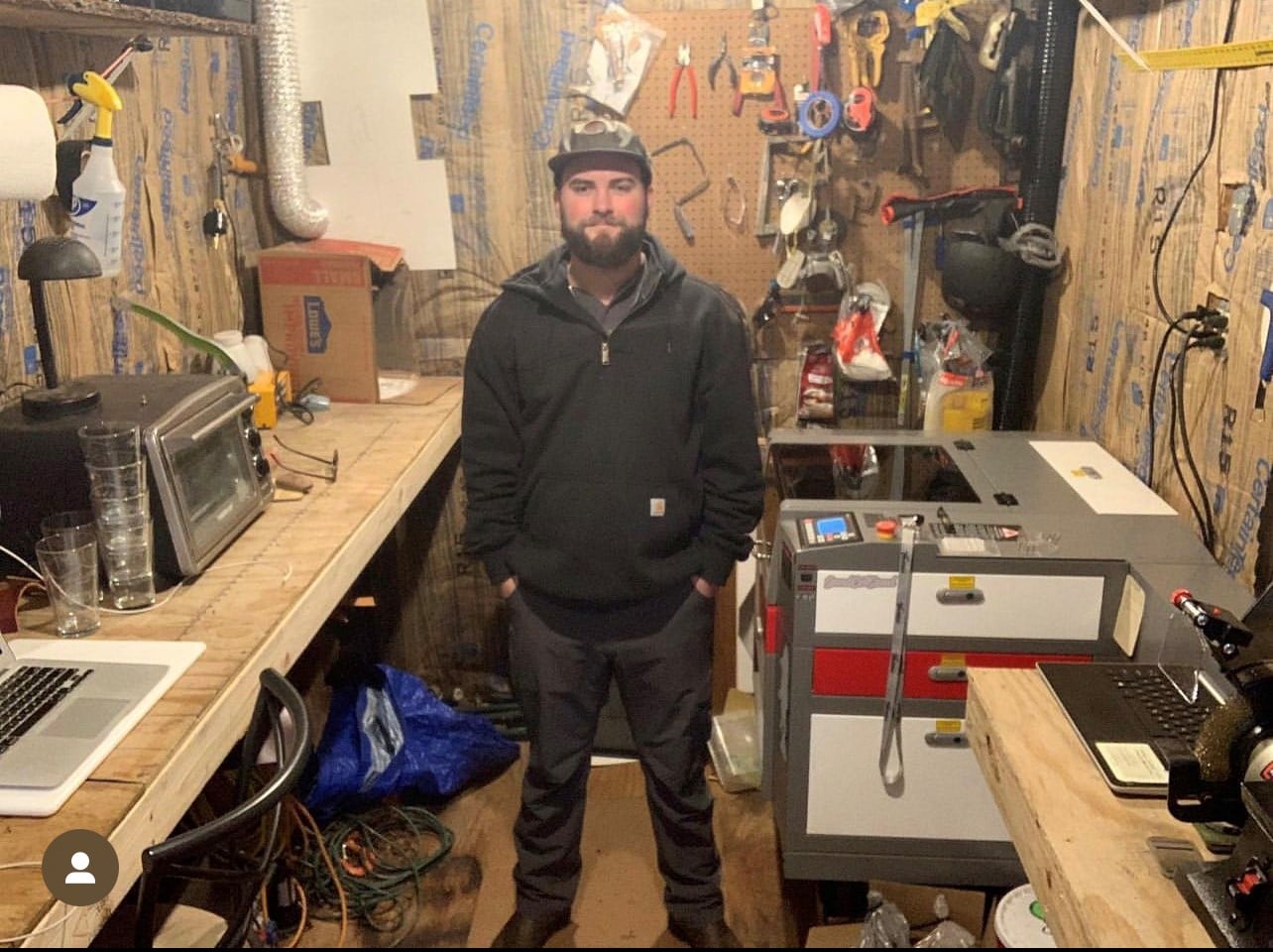 Hunter Allen is a Blowing Rock native who keeps his business local. His main focus is hand-made leather work, while also offering apparel and accessories. Grounded Works' designs are often customizable in that the customer can choose what color leather and thread they prefer. He offers wallets, dog leashes, koozies, keychains, hats, and more. All of the leather used in the products is sourced in the United States. Any given day you can find Hunter hand stitching wallets in his store. Grounded Works is located at 1179 Main Street in Southmarke, or you can find him on Instagram at grounded.works.
Southern Highland Craft Guild at Cone Manor
The Southern Highland Craft Guild has a shop inside Flat Top Manor, the historic home of Moses and Bertha Cone. Members of the Guild are juried for admittance and create works of the highest expertise in their respective crafts. In the shop, find handcrafted jewelry, pottery, textiles, baskets, and more. Each summer into fall, visitors can enjoy demonstrations by Guild artists, right on the front porch. Located on the Blue Ridge Parkway, the house overlooks the town of Blowing Rock. Visit at milepost 294 on the Blue Ridge Parkway.
Don't miss these artist & maker events!
Blowing Rock's renowned outdoor art show entered its sixth decade in 2021! The showcase includes pottery, painting, woodworking, jewelry, glasswork, photography, and more. Artists occasionally set up demonstrations, and they are always available to talk about their craft.  Art in the Park weekend is a great getaway for art lovers: located right downtown, close to galleries, shopping, dining, and walkable lodging. On the Sunday following each Art in the Park show, catch the outdoor Concert in the Park. May 20, June 10, July 15, August 12, September 9, & October 7 in 2023.
Artists In Residence is presented each summer at Edgewood Cottage, the restored summer home of Elliott Daingerfield. A different regional artist presents their work in a studio setting each week. Watch them work, learn about their process, and purchase work to add to your collection. See fiber art, ceramics, leatherwork and more at the 2023 series, open May 27 through September 10.
Heritage Day at Traditions Pottery Studio
Each June, makers gather at Traditions Pottery Studio to showcase and demonstrate traditional crafts. This year, meet basket makers, potters, banjo makers, quilters, and more. Plus, items from the wood-fired kiln will be available for sale. They are highly collectible and go fast- be there at 10am to claim your favorites! There's live music, too. This outdoor event is always on the last Saturday in June. 
The Blowing Rock Plein Air Festival invites painters to explore Blowing Rock and the surrounding Blue Ridge beauty with their paintbrushes. For four days, event participants set up their easels all over town and the Blue Ridge Parkway. Artists will display their work at the "Wet Paint" Art Show & Sale on the last day, a fantastic place to see all the work together. You can also meet the artists and ask about their work at the Show & Sale. During the festival, spotting a painter along Main Street or at a Parkway overlook can be lots of fun for observers. Several artists are happy to speak with polite observers, and don't mind an interested audience.