The warm light creates the evening "golden hour" when everything is cast in a glow. Sunset light enhances fall colors, too! Check out these beautiful, no-hike sunset spots for a perfect end to your day whether with your friends, your significant other, or alone with your thoughts.  Take your pick for the ultimate keepsake photo and resonant memory.
1. Gideon Ridge
The Restaurant at Gideon Ridge is another great place to view the sunset and to enjoy an elegant and relaxing dining experience. You'll need reservations, and for good reason: The Restaurant at Gideon Ridge is widely considered among the best in the area. This is a bed and breakfast, and the restaurant is open to the public. Their terrace has a great overlook of the Pisgah Forest and will soon be one of your favorite spots to frequent.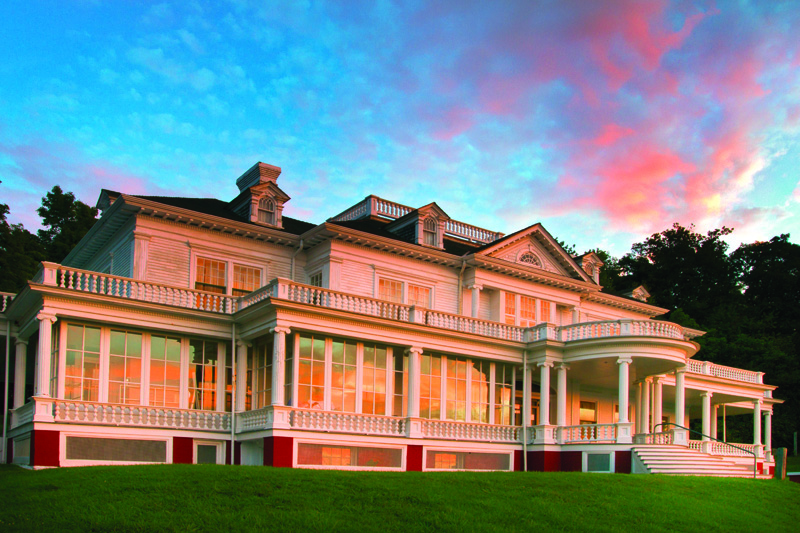 2. Moses Cone Manor Porch
Along the Blue Ridge Parkway is the legendary Moses Cone Manor. Around the estate is numerous hiking and horseback riding trails. The front porch of the house is directly facing south which allows for you to see the sun to set on your right and the sky changing colors to your left. You can get cozy on the porch and bask in mother nature's beauty.
3. Thunder Hill Overlook
Also located right off the Blue Ridge Parkway, Thunder Hill Overlook offers a sweeping view of the mountains and valleys to the south. It's popular at both sunrise and sunset. On a clear day you can see the city of Charlotte in the distance, though that's more common in the morning. It's the first overlook heading north on the Parkway from Blowing Rock. 
4. Raven Rocks Overlook
Find this overlook just north of Thunder Hill. This spot offers a view in the opposite direction, toward the north. The view isn't as wide, but on those days when colorful clouds are collecting in the northern skies, it's a perfect location.
5. Chetola Resort
Chetola Resort welcomes visitors to relax by their lake and fire pits and eat at Timberlake's Restaurant. The historic Manor House is the centerpiece by the lake. Throughout the week during the summer, the resort has nightly features such as live music and s'mores by the firepit. Watching the beautiful sunset colors reflect off the water with a drink or s'more in your hand is what relaxation is all about.
PLUS: Access for sunsets is dependent on the attraction hours, but we can't talk about sunset spots without mentioning The Blowing Rock. With a western vantage toward Grandfather Mountain, the sunset views are incredible and extremely photo-worthy! Just be sure to check sunset time and attraction hours before visiting if you want to be there for one.
To see more outdoor fun & activities, click here